Authentic Heavy Bag Workouts
Take it out
on the bag

Somerville, MA. 02145
381 Revolution Drive
assemblyrow@titleboxingclub.com

Open Today:

8:30am - 2:00pm
Your First Class
Let's make it happen together at TITLE Boxing Club Boston Assembly Row. We welcome boxers of all fitness levels and are in your corner to make your first class experience easy and fun.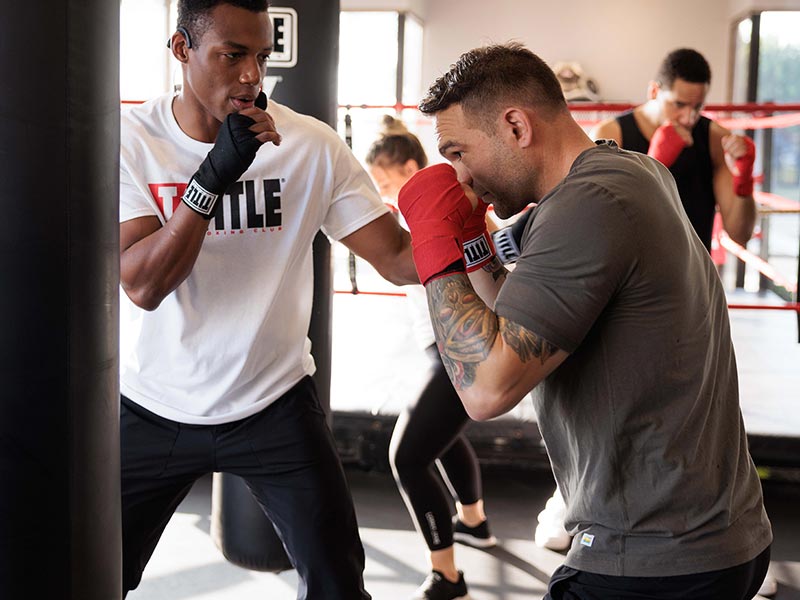 Member spotlight
Title Boxing Assembly Row's staff of trainers does an outstanding job of motivating and inspiring its members. Each class is challenging, fun, and a huge confidence builder. Every trainer on staff brings something different to the table and all are very motivational, knowledgeable, professional and make every class fun! -Joe…
Joe P
Recent TITLE Boxing Club Boston Assembly Row
Blogs

5 Fall Foods to Power Your Workouts
Incorporating seasonal fall foods into your diet can help enhance your boxing fitness workout by providing the necessary nutrients for energy, muscle recovery, and overall performance. Fall is known for its abundance of nutritious fruits and vegetables. Here are some fall foods in season that can benefit your boxing training at TITLE Boxing Club : […]
3 Reasons to Prioritize Weekend Workouts
For many of us, weekends often signify a break from the hustle and bustle of the workweek. While it's tempting to kick back and relax, incorporating a workout into your weekend routine can bring a range of physical and mental benefits. Here are three compelling reasons why you should consider breaking a sweat with TITLE […]
TITLE Boxing Club Boston Assembly Row
Owner Bio
Our Club Leadership
At TITLE Boxing Club Boston Assembly Row, we strive to provide amazing TITLE Boxing classes to members of all ages, weights, and abilities. From college students to working professionals to moms on the go, our club leaders are here to give you the best workout in Somerville, MA. Our goal is to provide an environment where you can be pushed to reach your goals while at the same time breaking out of your normal fitness routine. We're not just a boxing gym – we're a place where friends become family.
Since TITLE Boxing Club Boston Assembly Row opened in 2017, our club leaders have focused on offering the best boxing fitness classes for our members, day in and day out. We love our members and the community they've helped us build, and we aim to create fitness classes that challenge them to fight through mental roadblocks and the fatigue they face. With every jab, hook, and cross combination, we encourage our members to push through their personal challenges and leave it all on the heavy bag.
Our Boxing Club in Somerville, MA
Based in one of Somerville's biggest upcoming areas, Assembly Row, TITLE Boxing Club Boston Assembly Row is surrounded by retail stores, luxury condos and apartments, and several businesses. We offer a variety of classes from early morning to late evening, so you can come over to the club during your lunch break or on your way home from work. Every class we offer gives you a full-body workout that incorporates the fundamentals of a true boxer's workout to strengthen your arms, legs, back, and core. From the moment class begins to the ring of the final bell, you'll get the support you need to achieve your goals.
Private Training at TITLE Boxing Club Boston Assembly Row
Our trainers have an extensive background in weight training and cardio, and they're passionate about working one-on-one with members to help them reach their goals. During these private training sessions, our trainers will inspire you to become the champion of your life, and they'll push you to your limits. By the end of your personal training session, you'll feel empowered to conquer your personal challenges.
Join the TITLE Fam
Are you ready to engage your spirit and your body? Try a class at TITLE Boxing Club Boston Assembly Row! Our boxing club is located on the 2nd floor of the Partners HealthCare building. Call us at 617-426-9464 or sign up online to get started! We can't wait for you to join our TITLE fam.
Want to see what our members have to say about their experience at TITLE Boxing Club Boston Assembly Row? Check out our Google reviews!