Authentic Heavy Bag Workouts
Take it out
on the bag

Canton, MI. 48187
5848 North Sheldon Rd
canton@titleboxingclub.com

Open Today:

5:45am - 6:45am, 11:30am - 1:00pm, 4:45pm - 8:00pm
Your First Class
Let's make it happen together at TITLE Boxing Club Canton. We welcome boxers of all fitness levels and are in your corner to make your first class experience easy and fun.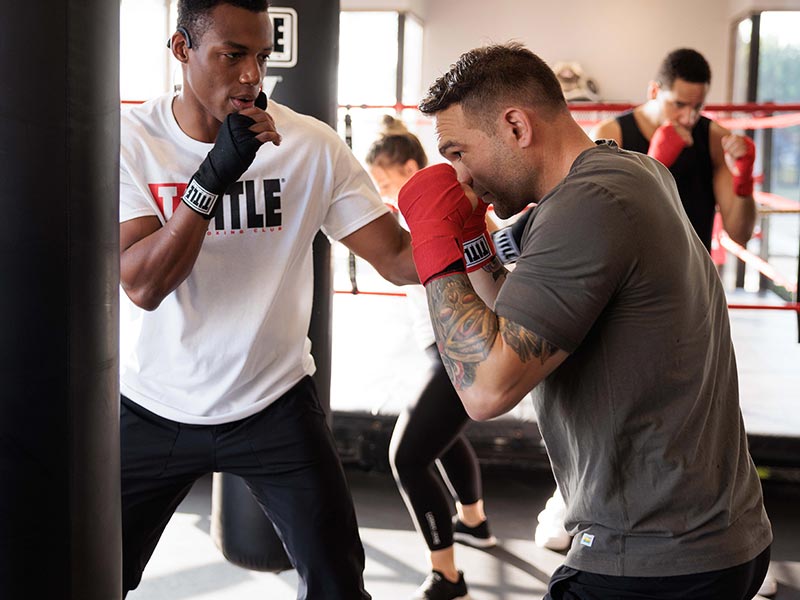 Member spotlight
I cannot recommend TITLE enough! The classes are fast, and fun and they play great music. Stop by to try a class and you'll see why so many people love TITLE Boxing Club!
Tara F.
I joined TITLE Boxing Club because I wanted to gain confidence. Now, I feel powerful and it's a blast learning to throw a punch. This has been so much more than just a boxing class.
Kathleen I.
Great workout head to toe – cardio, muscle building, losing weight…it's all right here. And the camaraderie you build with other members is second to none.
Daniel L.
Workouts are fun and taking your stress out by hitting a heavy bag is awesome.
Julie M.
I love this place! I had wanted to try boxing workouts for a while, but I was intimidated. I finally checked it out and I've been going ever since! Super fun and engaging workouts.
Cory A.
Recent TITLE Boxing Club Canton
Blogs

5 Fall Foods to Power Your Workouts
Incorporating seasonal fall foods into your diet can help enhance your boxing fitness workout by providing the necessary nutrients for energy, muscle recovery, and overall performance. Fall is known for its abundance of nutritious fruits and vegetables. Here are some fall foods in season that can benefit your boxing training at TITLE Boxing Club : […]
3 Reasons to Prioritize Weekend Workouts
For many of us, weekends often signify a break from the hustle and bustle of the workweek. While it's tempting to kick back and relax, incorporating a workout into your weekend routine can bring a range of physical and mental benefits. Here are three compelling reasons why you should consider breaking a sweat with TITLE […]
TITLE Boxing Club Canton
Owner Bio
Jerry is a graduate of the University of Michigan-Ann Arbor, where he received his BSEE and MBA degrees. He currently works full-time for a high tech company and comes into the club on weekends. He discovered TITLE Boxing Club in 2013 and fell in love with the product! He is amazed at the physical transformations he has witnessed in the club and feels blessed to be a part of something that has changed people's lives for the better! His hobbies are golf and working out at TITLE Boxing Club.
Alice is also a graduate of the University of Michigan-Ann Arbor, where she received her BSN degree. She retired from nursing many years ago to raise her three children. As a nurse, she can appreciate the health benefits of what TITLE Boxing Club can do, from losing weight, toning, eliminating/decreasing the need for medications, and stress relief. She thinks the TITLE Boxing Club workout is the best ever and wants to share it with the community. She likes to travel and eat good food.