Authentic Heavy Bag Workouts
Take it out
on the bag

Jacksonville, FL. 32250
14286 Beach Blvd, Suite 40
Jacksonville@titleboxingclub.com

Open Today:

6am - 8pm
Your First Class
Let's make it happen together at TITLE Boxing Club Jacksonville. We welcome boxers of all fitness levels and are in your corner to make your first class experience easy and fun.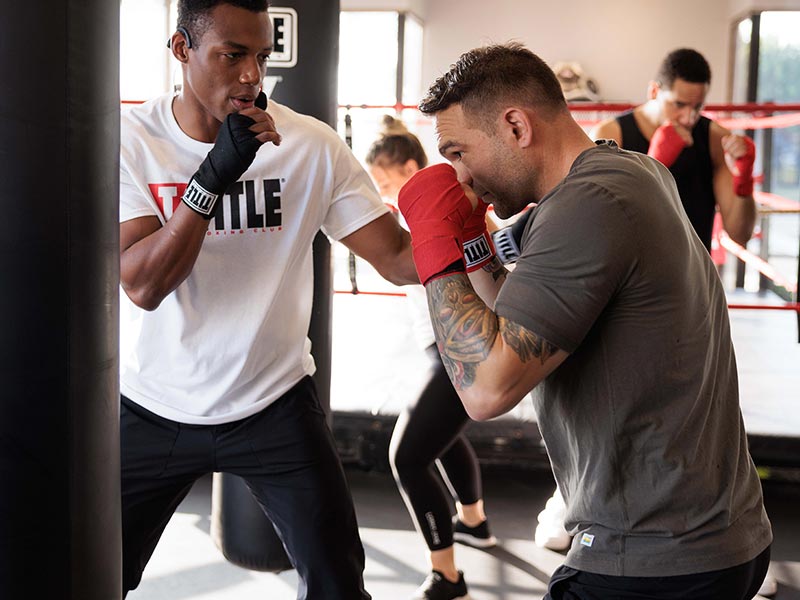 Our workouts are for all ages, all abilities and all fitness levels. Every participant in class is encouraged to go at their own pace. If you need to stop, catch your breath, stretch or get a drink of water, it's no big deal – everyone does it! Hop back in when you're ready and we'll be there right next to you cheering you on!
We have gloves that you can borrow for your trial class. We make sure they're cleaned and disinfected thoroughly after each class and replaced often. We recommend purchasing your own gloves after your first class. Best of all, TITLE Card members get a discount on gloves and wrap purchases.
We have gloves to borrow for your first time and you can purchase hand wraps here or bring your own. Hand wraps are required to use during class to protect your hands and wrists. We have water fountains in our clubs, and we encourage you to bring a water bottle and to drink plenty of water during and after class. The most important thing to bring with you is the attitude and belief that you can do anything you set your mind to.
We recommend wearing anything that makes you feel confident, especially workout apparel and shoes that you're comfortable sweating in. We have gloves to borrow for your first time and you can purchase hand wraps here or bring your own.
We ask that you show up at least 30 minutes before your first class. We will give you a quick tour, so you know where everything is, show you to your locker and help you pick out your bag and first-time loaner gloves. You'll select a pair of hand wraps (you can bring your own or purchase them here) and we'll walk you through the basics of class as we wrap your hands. We don't expect you to know how to wrap your hands for both comfort and safety, so we can help you on your first time or every time. Finally, before class starts, we'll set you up with our trainer to show you how to throw the four basic punches that will be used throughout class. Best of all, if you ever get lost just go back to the basic jab, cross combination and a trainer will come by to show you any other technique.
Staying true to how boxers train, our workout starts with a warm-up, then moves into boxing or kickboxing rounds, and finishes strong building your foundational strength in your core. Boxing is a full-body workout and you can expect it to incorporate your arms, back, chest, core, legs and glutes in the various movements and combinations.
Member spotlight
I cannot recommend TITLE enough! The classes are fast, and fun and they play great music. Stop by to try a class and you'll see why so many people love TITLE Boxing Club!
Tara F.
I joined TITLE Boxing Club because I wanted to gain confidence. Now, I feel powerful and it's a blast learning to throw a punch. This has been so much more than just a boxing class.
Kathleen I.
Great workout head to toe – cardio, muscle building, losing weight…it's all right here. And the camaraderie you build with other members is second to none.
Daniel L.
Workouts are fun and taking your stress out by hitting a heavy bag is awesome.
Julie M.
I love this place! I had wanted to try boxing workouts for a while, but I was intimidated. I finally checked it out and I've been going ever since! Super fun and engaging workouts.
Cory A.
Recent TITLE Boxing Club Jacksonville
Blogs

5 Fall Foods to Power Your Workouts
Incorporating seasonal fall foods into your diet can help enhance your boxing fitness workout by providing the necessary nutrients for energy, muscle recovery, and overall performance. Fall is known for its abundance of nutritious fruits and vegetables. Here are some fall foods in season that can benefit your boxing training at TITLE Boxing Club : […]
3 Reasons to Prioritize Weekend Workouts
For many of us, weekends often signify a break from the hustle and bustle of the workweek. While it's tempting to kick back and relax, incorporating a workout into your weekend routine can bring a range of physical and mental benefits. Here are three compelling reasons why you should consider breaking a sweat with TITLE […]
TITLE Boxing Club Jacksonville
Owner Bio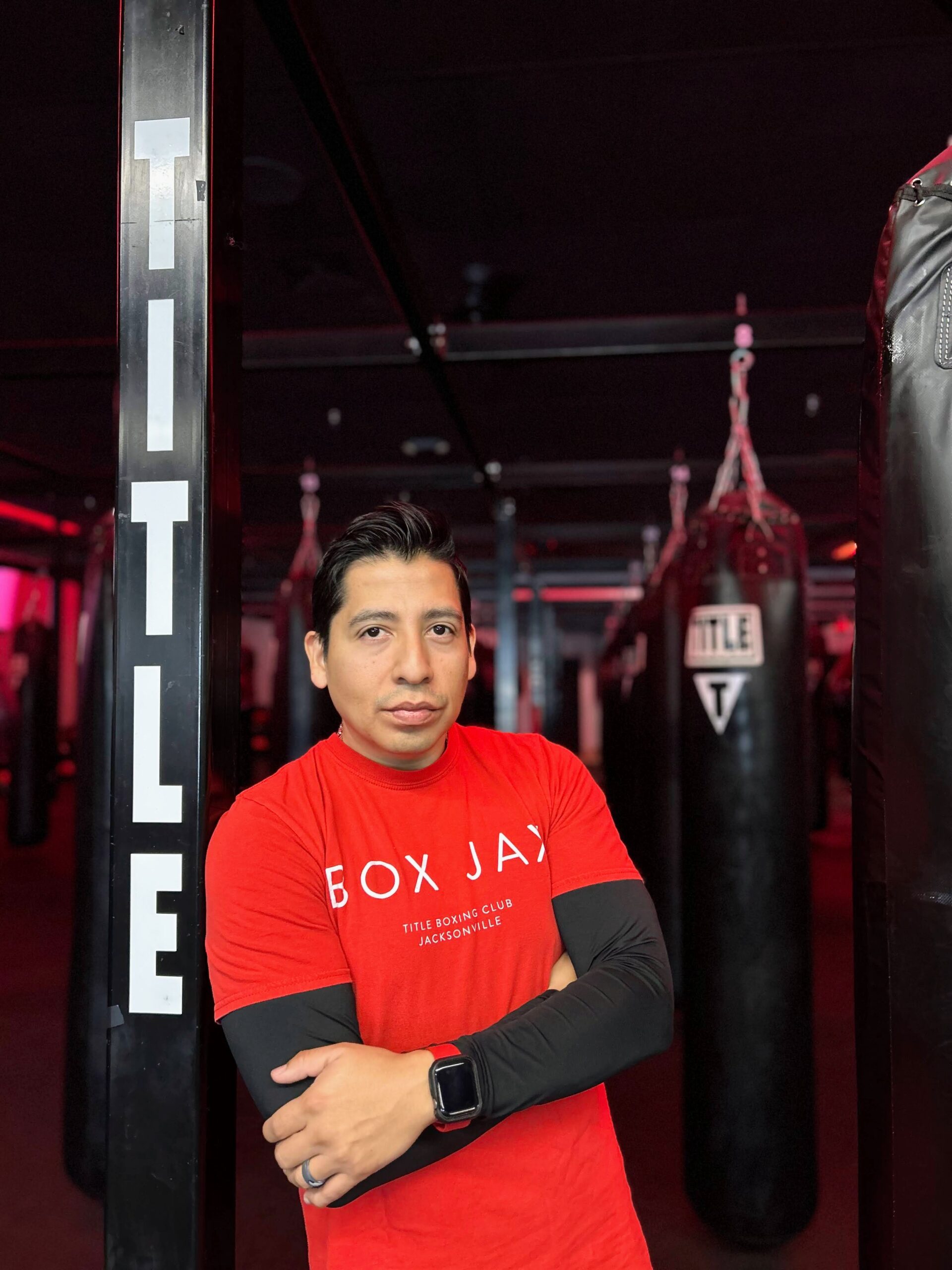 Henry Mendez graduated with a bachelor's degree in business leadership. After being born and raised in Brooklyn, NY Henry and his family now live in Jacksonville, FL.
Amid battling the COVID pandemic in NYC, Henry entered the franchising business world with TITLE Boxing Club. After multiple attempts to open a facility in NYC, Henry decided to relocate his entire life, and take over the TITLE Boxing Club in Jacksonville. Henry took a 10-year-old club and added a new layout, equipment, and team members.
After a few months of collaborative hard work, Henry's club has gained momentum, and built its reputation as a very well-run facility, offering explosive Boxing, Kickboxing, & MMA classes for all.
Henry's passion for fitness doesn't stop at Boxing. Back in NYC, Henry was an avid Krav Maga and Muay Thai practitioner. You can catch Henry participating in numerous classes including boxing, kickboxing, and MMA! Who knows, you may get your first-time guest experience with him!
Want to see what our members have to say about their experience at TITLE Boxing Club Jacksonville? Check out our Google Reviews!