Nov 9, 2016
Veteran Regains Life at TITLE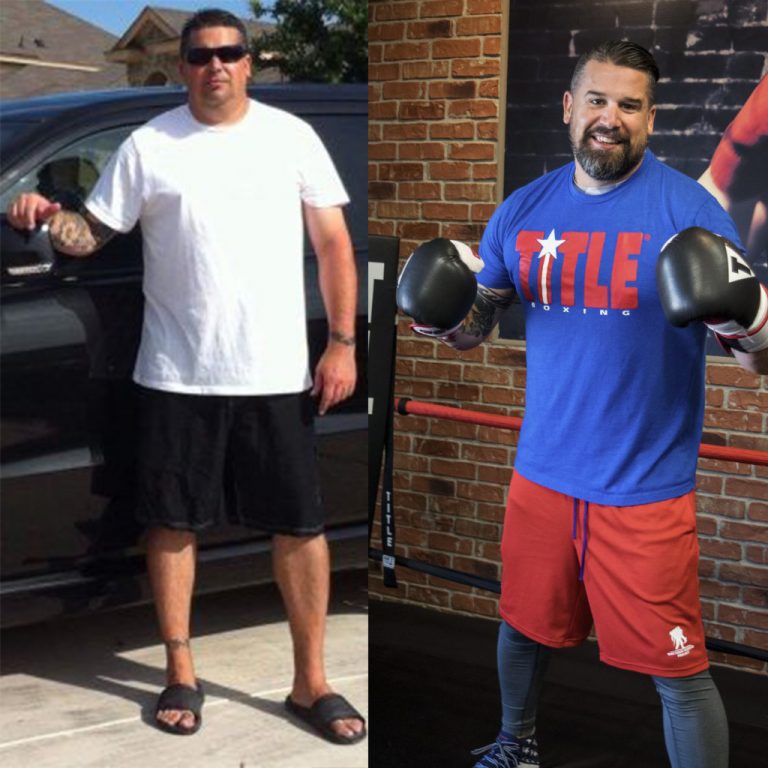 When Nate Dean Peters walked through the doors at TITLE Boxing Club in April 2015, he was assisted by a walker and guided by his daughter. War injuries left him barely able to walk or see, he weighed close to 300lbs and nearly gave up on life. All that has since changed.
As I went about my morning routine on May 12, I received a text message I never expected in a million years. Our Head Boxing Trainer, Reshard Hicks, let Joe and me know that one of our members, Nate Peters, had just completed both the 4:40am and 5:50am classes, and intended to complete all seven classes on that day.
"Are you serious?"
"Yep, he's planning to take the 9:30am in a couple hours for class number three," Reshard responded.
9:30 complete. Nate went off to get some food and a change of clothes. Noon came, and so did Nate. "He came to me and pulled me aside to let me know what he was going to do. He had talked about doing seven classes in one day, but I had no idea that it was going to be that day until he told me. He didn't seem to want to make a big deal about it, but I knew I had to tell Joe and you," Reshard said.
For MOST people, even competitive athletes, completing seven one-hour boxing and kickboxing classes in one day would pose as a challenge. But to further understand just how incredible this goal was, we have to take you back to April 2014.
Nate, a medically retired Veteran of the US Army, was in (self-described) terrible shape. Suffering from multiple injuries after he was hit by a rocket while serving on a combat deployment in Afghanistan, he had to have surgeries to repair his back and neck. Those surgeries, however, were completely botched. He began to suffer even more, and even began losing his sight. He gained weight because he could barely walk, let alone attempt to workout. It seemed that the rest of his life was going to be miserable. After more surgeries to repair the damage caused during those initial surgeries, he spent over a year and a half recovering.
He linked up with the Wounded Warrior Project and asked them to help him find a place that he could workout again with his injuries. The WWP pointed him to TITLE.
"At that time, I was using a full blown walker to get around, but I was afraid that I would make the TITLE team nervous about allowing me to come in and workout. So instead, I used a cane and relied on my daughter to help me through the door," Nate told me.
At the time he walked through the doors, he weighed 285lbs, was told by doctors that he may never fully regain his sight, and that he was never going to walk without assistance.
Nate did not believe them.
"I started coming only to the 4:40am classes because there weren't many people. I was embarrassed by my weight, and the fact that I couldn't do much of anything."
But he didn't quit. He started to notice small improvements. His sight improved, his weight began to decrease, he had more energy and he felt the confidence to begin attending the popular evening and weekend classes.
Back to May of '16, as I arrived to attend the 4:15pm class, Nate (now a slim 215lbs at 6'4") was already there getting ready for class number five. As core began during each class, Nate headed over to the treadmill due to some limitations with floor exercises due to his back. He ran on the treadmill during the last fifteen minutes of each class. The man who doctors said may never walk unassisted again was RUNNING on the treadmill. He ran a total of seven miles that day.
When the last class wrapped up, everyone cheered for Nathan, knowing what he had just completed. People shook his hand and congratulated him. Some knew how far he had come, others simply looked at him and admired his incredible motivation and fitness ability.
TITLE Boxing Club Killeen is making this an official challenge with Nate Peters as the mentor, coach and founding member of the "747 Club." Nate will be offering tips on how he trained up to complete all seven classes, as well as tips on how to refuel, when to change clothes, etc. Are you interested in completing the challenge and being inducted into the "747 Club?"