Oct 3, 2018
Success Story | Betty Ashley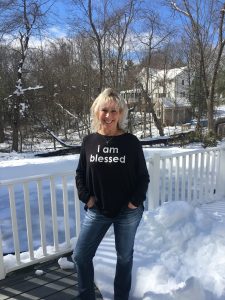 At TITLE Boxing Club Littleton, MA, we pride ourselves on helping members accomplish their goals through boxing fitness classes and a supportive environment. Our member of the month this month has proved her strength by overcoming obstacles and seeking encouragement from her TITLE family. Meet Betty Ashley, our dedicated member of the month. After her previous boxing gym closed, Betty and her friends decided to try TITLE Boxing Club Littleton, MA. They were immediately hooked. Now, Betty comes to 4-5 times a week, and she has shown tremendous strength during her time at our boxing club. Here's what Betty has to say about her time at TITLE:
It is not just the physical workout that I like. It is the people you work out with, the trainers and the whole crew. When I joined in April of 2017 with my two friends, it was absolutely amazing. Of course, whenever you try a new place/routine, you are scared. Our first class was with Tony, and he was so receptive to us. Our previous boxing gym had closed suddenly which I belonged to for three to four years. I was so disappointed and depressed. I am not ashamed to say I suffer from anxiety and depression and that working out is my release. I tried the usual gyms and was just miserable and getting more depressed going to them. I came across TITLE while searching online and spoke with Becca (miss you, Becca!). I told her what I was interested in, and she said "Come on in and try a class; I think you will love it." After about three conversations with her, I and my two friends ventured down to Littleton (from Chelmsford) and took a class. After the warm up, I think we all felt the same – we are never going to get trough this. Luckily, we had some good boxing training coming in, and we made it through the eight rounds. And then, the abs! Again, never thought we would get through this, but we did, and it was all good from that moment on.  

I have been a member for over a year. I take classes 4 to 5 times a week, and it never gets old. The trainers are so much fun and loving, and they push you to your limit. Everyone there does just that! Erin, Flaviano, and the front desk crew are amazing and creative.

There are days I go in kind of down, but by the time I leave, I am smiling and have more energy to get on with my day. This past year, I was diagnosed with breast cancer and had double mastectomies with surgical reconstruction. It was a 12-hr procedure, and I was in the hospital for 4 days. I came home feeling not so good, but within 10 days I could go for walks, and within about 9 weeks, I was back at the gym boxing. If I was not in such good physical condition this would never had happened. So thank you TITLE Boxing for welcoming me, pushing me, and encouraging me. It has been so great to be part of the family and… really, not sure I will ever stop.

9/30/18 Update…. I originally wrote the above earlier this year and guess what? Nothing has changed about my feelings for TITLE Littleton except that my time spent there with great workouts, happiness, and love has increased tenfold. Oh and I reached my 200th check-in! Just can't keep myself away. If you ever get the chance to try a class – and I am sure you would be happy that you did – please do so. I highly recommend it. It would be the best investment ever.  Whether you consider yourself a beginner, intermediate, or advanced, you will be pleasantly surprised by your experience. As I look back over my time at TITLE Littleton, especially this past year, to me it is not if I lost 5 or 20 lbs. It is not if a wear a size 2 or size whatever; it is what has been given to me to be healthy and strong, both in body and mind! Love you guys!
Thank you for being such an awesome member of our TITLE fam, Betty! We love having you at our boxing club, and we look forward to seeing you in your next class.