Littleton
365 Constitution Ave, Littleton, Massachusetts 01460 978-486-0100 Open Today: 5am - 7:30pm Tuesday: 6:30am - 7:30pm Wednesday: 5am - 7:30pm Thursday: 6:30am - 7:30pm Friday: 5am - 7:15pm Saturday: 7:30am - 10:30am Sunday: 7:30am - 10:30am
365 Constitution Ave, Littleton, Massachusetts 01460 978-486-0100 Open Today: 5am - 7:30pm Tuesday: 6:30am - 7:30pm Wednesday: 5am - 7:30pm Thursday: 6:30am - 7:30pm Friday: 5am - 7:15pm Saturday: 7:30am - 10:30am Sunday: 7:30am - 10:30am
Try a Class
New to boxing? Schedule your first workout at our Littleton fitness studio and we'll show you the ropes.
Upcoming Classes
Meet Your Trainers
Success Story: Couple of the Month – Lauren & Mike
TITLE Boxing Club Littleton, MA focuses on building strength through the mind and the body. Our HIIT workouts will teach… Read More
Loyalty Beyond the Bag
With a Net Promoter Score of 87%, our members are happy to recommend us to others.

OP's TITLE Boxing Club Signs 'Milestone' Franchise Deal
Overland Park-based Title Boxing Club signed its largest franchise deal to date, which will bring 25 clubs to Mexico City.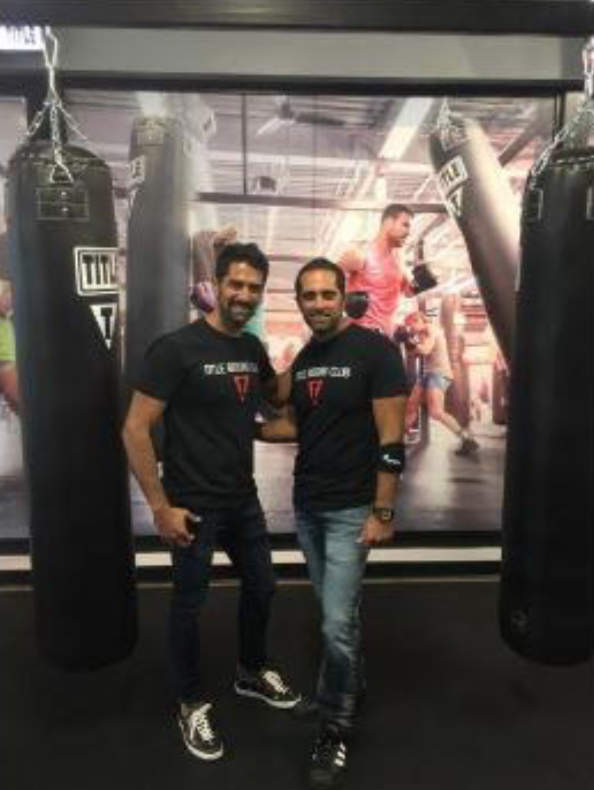 Mexico natives and brothers Jack and Alan Sandoval, who signed the record deal, already own locations in Miami and five clubs in Mexico City. They plan to open five more clubs in Mexico City this year and then five clubs each year until they reach 25 clubs.
"Ultimately, we want a Title Boxing Club close to everyone in Mexico," Jack Sandoval said in a release.
The brothers are tapping a hot market. Mexico's fitness and health industry creates more than $1.8 billion in annual revenue, according to the release.
Title Boxing Club, which started franchising in 2009, has grown to more than 190 clubs that offer fitness classes in boxing and kickboxing. It also has 150 clubs in development.
In the release, Title Boxing Club President Susan Boresow called the latest deal a "milestone agreement" and pointed out how Mexico has produced boxing legends such as Julio César Chávez and Canelo Alvarez. The boutique fitness studio hopes to produce a few champions of its own, she said.
Earlier this year, the boutique fitness studio introduced a new avenue to work out with the brand via a fitness app that gives subscribers access to full-body workouts and Title Boxing Club trainers. The app features 10- to 45-minute workout sessions for a variety of skill levels and gives users flexibility in tailoring the workouts. The Overland Park company also embarked on a national tour this year to ramp up brand awareness and target untapped customers.
Title Boxing Club ranks No. 95 on the Kansas City Business Journal's Top Private Companies List, with $71 million in 2018 revenue.
Our Club Leadership
At TITLE Boxing Club Littleton, MA, we love our members, and we are here to make our boxing club better each and every day for them. The club leadership of TITLE Boxing Club Littleton, MA focuses on giving the best workout in the city, day in and day out. Our goal is to provide a place where people of all ages, bodies, weights, and abilities can experience the most empowering, exhilarating, and addictive workout of their life in a supportive, encouraging community.
TITLE Boxing Club Leadership in Littleton, MA
Our club leadership's main focus is to provide our members with a fun, family environment, while pushing them to achieve their goals. From the moment class begins to the final round, our leaders work with you to improve your technique and find your inner strength. For us, every boxing for fitness class is about you: your goals, your life, and your journey to health. Our club leadership is here to encourage you in your boxing fitness journey and to help you achieve a new level of empowerment. See what Erin, the Owner of TITLE Boxing Club Littleton, MA, has to say about our boxing club:
Hi, I'm Erin, owner of TITLE Boxing Club – Littleton, MA. Thank you for visiting our page!

On a fairly regular basis, members ask me how I ended up opening a boxing and kickboxing fitness club when I have a computer science degree and left a comfortable position in Corporate America. I always say that it comes down to my love for fitness and people. Throughout my life, I have always been passionate about being active, staying fit and helping others. So after 20+ years in Corporate America, I finally made the leap out from behind the desk and into the club!  

TITLE Boxing Club Littleton has already started to evolve into a community of dedicated members. For me personally, I love to see the enthusiasm and excitement from new and seasoned boxers alike on a day to day basis. It is truly a joy to see people achieve their fitness goals first hand. I am finding that I am learning from everyone I meet in the club. Our family of members represents a wide spectrum of skill levels, from those who have been boxing and kickboxing for years, to those who are putting on gloves for the first time.
But enough about us, how about you? Are you passionate about staying fit and being active? Would you like to try a new fitness and workout experience that's fun and gets results? When you come to TITLE Boxing Club in Littleton, MA, our staff will guide you every step of the way in everything from wrapping your hands to proper positioning. Our goal is to offer you the best in-club experience possible, and above all, we are a community that cares about your fitness goals and health. Come in today to find out what we are about; and feel free to introduce yourself to me when you come in! I would love to meet you.
Private Training At TITLE Boxing Club Littleton, MA
At TITLE Boxing Club Littleton, MA, our club doesn't just specialize in group workouts. Our club leadership also offers private trainings so that you can work with our boxing for fitness trainers individually. If you want more one-on-one interaction with our team, we have trainers that are happy to provide you with that experience. As one of the best boxing gyms in the Littleton area, we pride ourselves in having one of the best personal training programs that is personalized for each individual member. We care about our members, and our leadership team will always be available for them to connect with.
Join Our TITLE Fam!
As a boxing gym in Littleton, MA, TITLE Boxing Club Littleton offers full-body boxing workouts designed to engage your spirit and your body. Interested in making TITLE Boxing Club Littleton, MA your new boxing club? Call us at 978-951-0808 or sign up online!
Club Reviews
August 13, 2019
Alysasa Leone
Townsend, MA
August 10, 2019
Jim Considine
Dunstable, MA
August 9, 2019
Angela Juliano
HARVARD, MA
FAQs
I've heard the classes are intense; do I need to be in great shape to do the workouts?
It doesn't matter if you haven't worked out in a while or have never boxed before, you can finish the workout feeling great! You'll see that everyone goes at their own pace, but believe us that once you're here, you'll be inspired to give it your very best!
I don't want to get hit; is this a contact workout?
No—not ever! Each person in class has their own heavy bag to workout on, plus their own space to move around the bag. Trust us, you won't even realize anyone else is in the class because you'll be so focused on the workout! And, rest easy, we never allow sparring or fighting at TITLE Boxing Club.
What makes TITLE different than other fitness studios?
Boxing is a great workout, perhaps one of the most challenging of all sports, and we want to bring you the intensity of the training, minus the impact. We'll teach you how to roll with the punches by pushing you further than you thought possible.
I'm new to boxing; will someone show me the basics?
You bet! All of our classes are taught by instructors who will show you the ropes from the beginning. We'll help you wrap your hands and walk you through the basic fundamentals. Everyone in class is at a different level, so take a deep breath and go at your own pace!