Total-Body Boxing & Kickboxing Workouts 
The TITLE Boxing Workout Experience 
TITLE Boxing Club is the best and only authentic full-body boxing workout that changes your body, clears your mind and completely engages your spirit.
Our signature workout utilizes the fundamentals of a true boxer's workout – including proper heavy bag training – to strengthen and tone your arms, legs, back, core, stamina and your confidence. Empowering, exhilarating and totally addictive—this is your new favorite workout class.
Learn more about our high-intensity boxing, kickboxing and MMA workout classes below.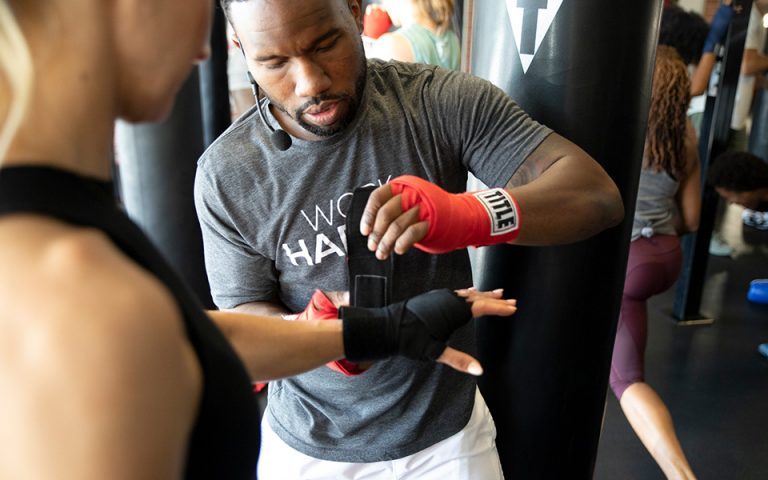 Don't just lift weights. Lift yourself.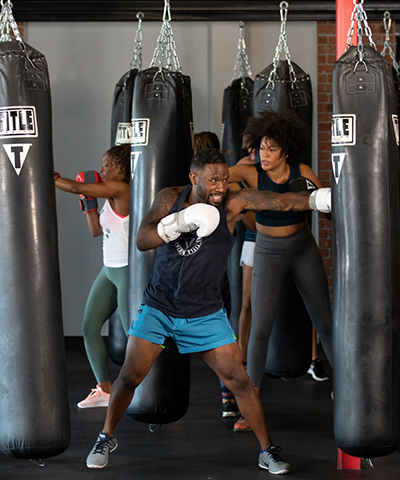 Gloves aren't a fashion statement.
Boxing Classes
This high-intensity interval training workout sculpts your body and burns calories like nothing you've experienced before. Your trainer will lead you through explosive boxing rounds where you'll deliver jab, cross, hook and uppercut combinations, working your entire body on our 100-pound heavy bags.
LEARN MORE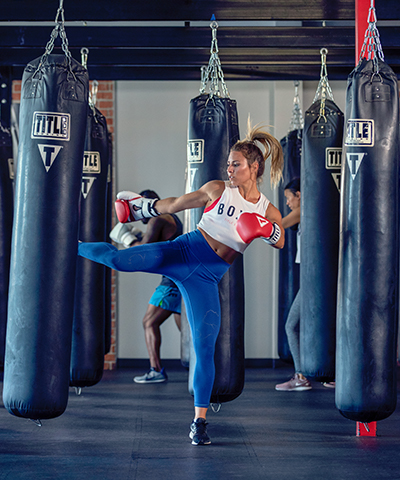 Dig deep is our mantra.
Kickboxing Classes
Our kickboxing workouts incorporate kicking and punching for a dynamic, challenging experience. You'll keep your body guessing as our trainer pushes you to use your personal power in every style of kick and punch throughout our rounds.
LEARN MORE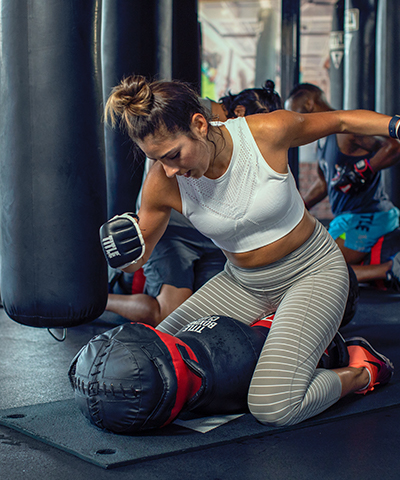 A new level of empowerment.
MMA Classes
Our newest workout, offered in select locations, is a Mixed Martial Arts – influenced class designed to elevate your fitness ability and condition your body. Bag work on the ground blends with boxing and kickboxing on the heavy bag for an ultimate full-body challenge.
LEARN MORE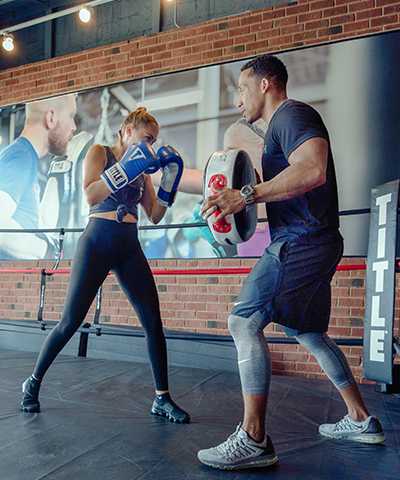 Train your body and your mind.
Private Training
Our experienced trainers don't intimidate, but inspire you to become the champion of your life. Choose Private Training or Group Training to take your boxing, kickboxing or MMA technique to the next level and accelerate your results. We have free weights plus cardio equipment for those looking for a more traditional personal training experience, too.
Find Your Location
What to Expect
Warm Up
The best HIIT workout of your life starts with trainer-led shadow boxing, cardio drills and stretches to get your heart pumping. You'll begin each class with a solid stretch and calisthenics to prepare your body for punching or kicking the heavy bag during the rest of the workout. Think: lunges, squats, shadow boxing, jumping jacks and more to get a total body workout.
The Rounds
Each of our boxing workouts consist of three-minute rounds where your trainer will lead you through a series of punches and kicks on the 100-pound heavy bag. We'll tell you, show you and teach you how to execute each move throughout the rounds.
Active Rest
Between each round we'll keep your mind and your body engaged with calisthenics for your active rest period. Each active rest period is one minute long. You can push yourself and your limits during this period or take a quick water break and jump right into the next round. Get the ultimate calorie burn with added lower body exercises between the rounds of hitting the heavy bag.
Core & Cool Down
Finish your full-body workout with the hardest, most sculpting portion of our class. Trainers will lead you through a strengthening and toning abdominal workout to define your core. Finish your workout inspired by using our weighted medicine balls to do a variety of exercises all targeting your abs.
Workout Options by Class Length
30-Minute Class
Never let a busy lifestyle stand in the way of your health. Get the same sweat in half the time. This 30-minute class, offered in most locations, allows you to squeeze in a workout and maximize your time.
Your 30-minute workout will consist of:
7-Minutes of cardio and body weight exercises + Four 3-Minute Rounds on the Heavy Bag + 7-Minutes of Ab Exercises
45-Minute Class
Our favorite workout ever got even better with the signature eight rounds on the bags with only seven minutes of warm up and core.
Your 45-minute workout will consist of:
7-Minutes of cardio and body weight exercises + Eight 3-Minute Rounds on the Heavy Bag + 7-Minutes of Ab Exercises
60-Minute Class
Shred calories in our signature boxing class that flies by because you're having so much fun, but leaves your body burning for days! You will tone your body from head to toe and have fun doing it!
Your 60-minute workout will consist of:
15-minutes of cardio and body weight exercises + Eight 3-Minute Rounds on the Heavy Bag + 15-Minutes of Ab Exercises
75-Minute Class
Challenge every single muscle to the max and never, ever plateau. Tackle one of these 75-minute classes and earn the ultimate title of champion.
Your 75-minute workout will consist of:
15-Minutes of cardio and body weight exercises + Twelve 3-Minute Rounds on the Heavy Bag + 15-Minutes of Ab Exercises