Fitness Boxing Workout Classes
Experience High-Intensity Interval Training Inspired by a True Boxer's Workout
Our Boxing Classes Are Unique
TITLE Boxing Club not only modernized the oldest sport in the world, but also made it into a workout that is addicting, fun, and effective. Forget the treadmills, rowers, ballet bars, yoga mats, and cycle shoes, and get ready for a full-body workout like no other! Whether you choose our 30, 45, 60, or 75-minute boxing fitness classes, you will follow the same format of warm-up, 3-minute rounds on the heavy bag, and core! Our authentic, energizing boxing classes will be the best part of your day, guaranteed! We are the first and only fitness club dedicated to giving people of all ages, shapes, and abilities the most empowering workout of their lives. Our boxing classes engage your body, mind, and spirit by channeling the fundamentals of a true boxer's workout, adding in a little sweat and a lot of fun! Grab a friend, a pair of gloves, and give it your best shot!
Schedule Your Boxing Class Today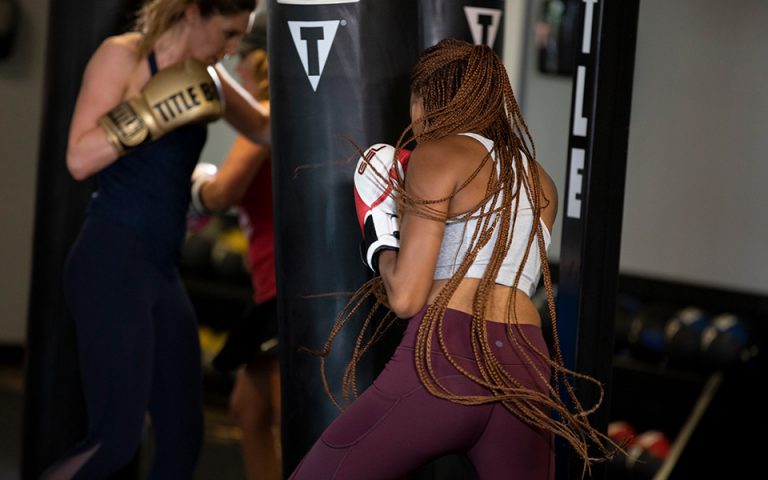 What To Expect During Our Boxing Workout Classes
Start your boxing class with a warmup
The best HIIT workout ever starts with trainer-led stretching, shadow boxing, and cardio drills to get your heart pumping and prepped your body for punching the heavy bag. We'll incorporate lunges, squats, shadow boxing, jumping jacks, mountain climbers and more to engage different muscle groups for a total-body workout.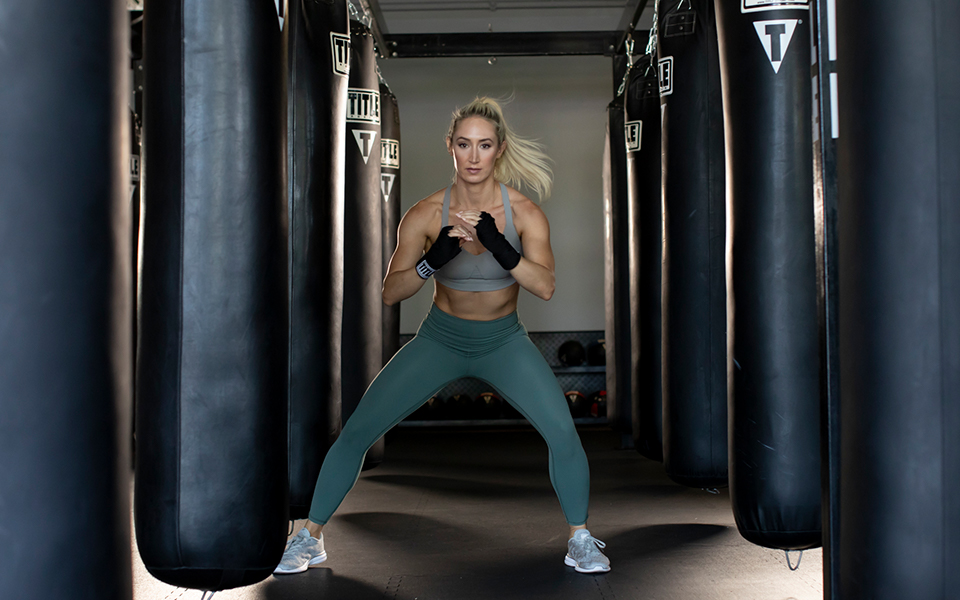 Next, work through a series of boxing rounds with active rest in between
It's time for the good part! Your trainer leads you through 3-minute rounds where you'll do a series of punches on the heavy bag. You're not just punching the bag, you're executing each move to work your whole body! Don't worry, our high-energy, sweat-inducing boxing workout is for EVERYONE no matter your age or fitness level.  It is a stress relieving, mind and body experience like no other. We're all searching for our inner fighter at heart!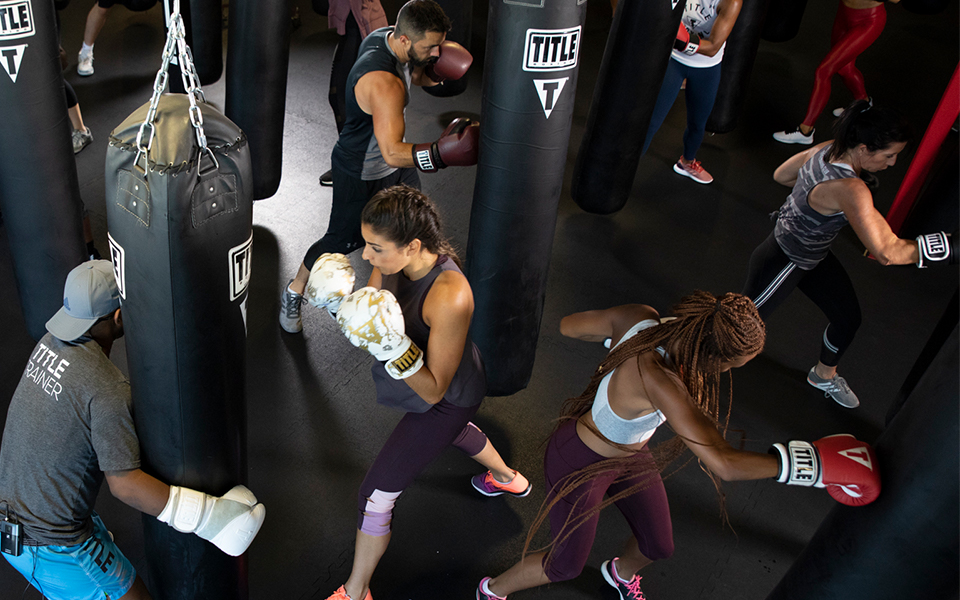 Finish your boxing class with a core series & cool down
Round off your boxing class by using our weighted medicine balls to do a variety of exercises targeting your abs. Trainers at your TITLE Boxing Club will lead you through a strength and toning abdominal workout. The workout is designed to define and strengthen your core and improve your punches. Leaving you feeling toned, de-stressed and sweaty!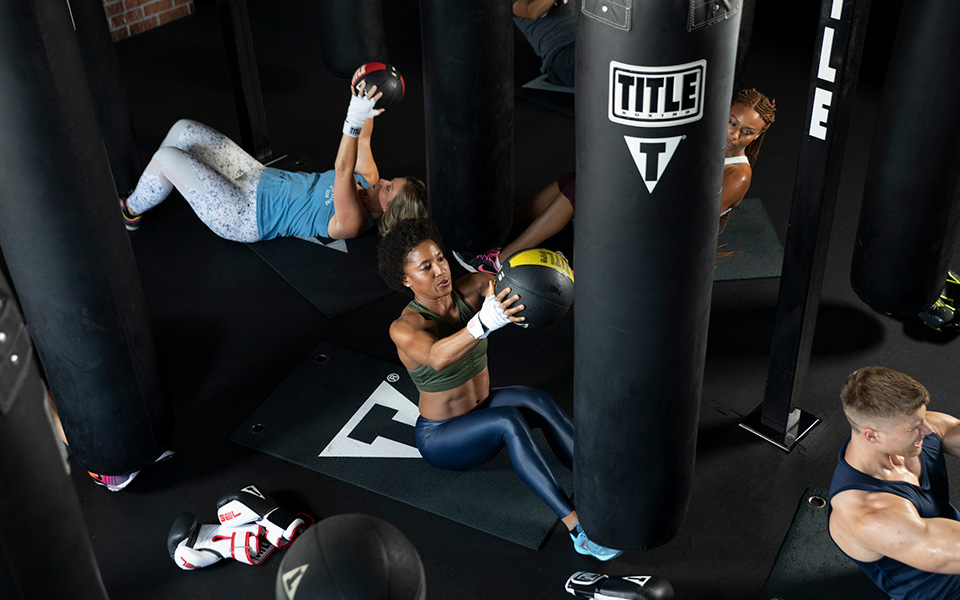 What Are the Benefits of Our Fitness Boxing Classes?
At TITLE Boxing Club, we guide you through your fitness journey from goals to results. Your dedication, tenacity, and intensity will come to life in our clubs. We are proud to offer classes that combine elements of real boxing workouts and other fitness aspects to give you a well-rounded, heart-pumping experience. Our total-body boxing fitness classes provide:
A strength and cardio-based workout all in one
Improvement of your resting heart rate and muscular endurance
Increased balance, coordination, reactivity, and agility
Caloric burn and the "afterburn" even when class is over
A great workout to help people lose weight or tone their bodies
A good, healthy way to relieve stress and improve mental clarity
What's best is you're working your full body in every boxing class by throwing four basic punches: jab, cross, hook, and uppercut in combinations called out by the trainer. The combinations in our boxing workout classes, from the warm-up to the rounds and core, are endless. Your body will never get used to our boxing workouts because they're different every time! Our members love that the classes are short and effective. Combining strength training, stamina, and core. Did we mention the added cool factor? After all, punching things is our cardio.
Excited to give TITLE Boxing Club a try? Contact your local club to learn about any special offers this month! We look forward to working out with you!
Book Your Boxing Class