Ready for Your First TITLE Boxing Class?
Become a total knockout! Review these tips to help prep for your first punch.
Our place is a home for newbies, first timers, advanced athletes, fitness enthusiasts, disease fighters, goal getters, community seekers and more. We're a brand of inclusion where you're welcome, wanted and encouraged! Show up, go at your own pace, and give it your all. We all have to start somewhere, why not start here?
We are TITLE Boxing Club, a place to work out, get fit and belong. We can't wait to meet you and schedule your first class. Knowing that everyone has different battles to fight with your health, goals, weight, ability or stamina we would like to help you customize your first boxing class.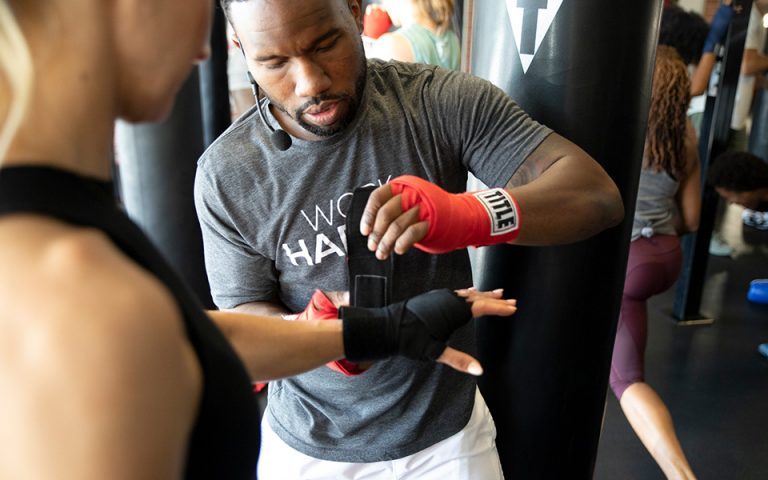 Take a quick peek into the club and see what all will be included during your first boxing fitness experience.
All first-time guest experiences start 30 mins prior to the scheduled class time to ensure you're prepared for class, and we'll show you the ropes (read: give you a tour)
If you don't own a pair of hand wraps (most don't!) we have them here for purchase
Our trainers will wrap your hands and show you how to throw the four basic punches
Class starts with a warm-up and ends with core work, so you'll love that it's more than just boxing
While the instructor sets the tempo, you absolutely are encouraged to go at your own pace
Bringing a friend for your first time is highly encouraged and makes it so much more fun
Common Questions From TITLE First-Timers
How do I know if this is for me?
Our classes are a total-body workout inspired by the sport of boxing. People of all ages, all abilities and all fitness levels are side by side in class with you—think young professionals, moms and dads, fitness first-timers, handicapped individuals, people trying to lose weight, gain muscle, get better and go at their own pace. Once the bell rings and class begins, all of your fears reside and the class experience truly becomes only about you and the heavy bag.
What is the class structure like?
Staying true to how boxers train, our workout starts with a warm-up, then moves into boxing or kickboxing rounds, and finishes strong building your foundational strength in your core. Boxing is a full-body workout and you can expect it to incorporate your arms, back, chest, core, legs and glutes in the various movements and combinations.
How early do I need to arrive for my first time?
We ask that you show up at least 30 minutes before your first class. We will give you a quick tour, so you know where everything is, show you to your locker and help you pick out your bag and first-time loaner gloves. You'll select a pair of hand wraps (you can bring your own or purchase them here) and we'll walk you through the basics of class as we wrap your hands. We don't expect you to know how to wrap your hands for both comfort and safety, so we can help you on your first time or every time. Finally, before class starts, we'll set you up with our trainer to show you how to throw the four basic punches that will be used throughout class. Best of all, if you ever get lost just go back to the basic jab, cross combination and a trainer will come by to show you any other technique.
What if I haven't worked out in a while or have injuries?
When you arrive early before class, we use that time to get to know you and customize your experience. This is a great time to go over your goals and discuss any modifications you prefer due to an injury or based on your fitness level. If you're feeling nervous about your first class, let us know, and we can take class with you or find unique ways to make it more comfortable!
Can I bring a friend?
Of course! We know the best things in life are best shared—including being nervous to try something new! Convince your friend, colleague, partner or family member to sweat it out with you and you will have an accountability partner for life. When reserving your class simply tell us who you'd like to bring, and we'll make sure we reserve two bags.
What should I wear to a boxing workout?
We recommend wearing anything that makes you feel confident, especially workout apparel and shoes that you're comfortable sweating in. We have gloves to borrow for your first time and you can purchase hand wraps here or bring your own.
What should I bring to class?
We have gloves to borrow for your first time and you can purchase hand wraps here or bring your own. Hand wraps are required to use during class to protect your hands and wrists. We have water fountains in our clubs, and we encourage you to bring a water bottle and to drink plenty of water during and after class. The most important thing to bring with you is the attitude and belief that you can do anything you set your mind to.
I don't own a pair of boxing gloves. Will I need to buy them?
We have gloves that you can borrow for your trial class. We make sure they're cleaned and disinfected thoroughly after each class and replaced often. We recommend purchasing your own gloves after your first class. Best of all, TITLE Card members get a discount on gloves and wrap purchases.
Will I get hurt?
With all physical activity, there are risks. We encourage you to speak with a doctor before performing physical activity. As it pertains to our classes, we wrap your hands to prevent injury and show you the basic punches and exercises throughout class. If at any time you need assistance or more direction all you have to do is ask! The trainers interact with every person in class, not just stand up front like other gyms and studios, so it's easy to ask question as you go. We can offer modifications as well. To put your mind at ease: you will never get hit in one of our classes. We are a no-contact workout.
What if I fall behind the rest of the class?
Our workouts are for all ages, all abilities and all fitness levels. Every participant in class is encouraged to go at their own pace. If you need to stop, catch your breath, stretch or get a drink of water, it's no big deal – everyone does it! Hop back in when you're ready and we'll be there right next to you cheering you on!
Read What TITLE Members are Saying
"The instructors are welcoming & helpful. If you are apprehensive about being able to keep up with the boxing moves during the classes, have no fear! The instructors will take the time to show you all while teaching the class. I took my 10 yr old nephew recently. It was his first boxing experience, and he loved it. Also, the owner is very personable and provides a sense of family at his club."
- Lisa, Atlanta Member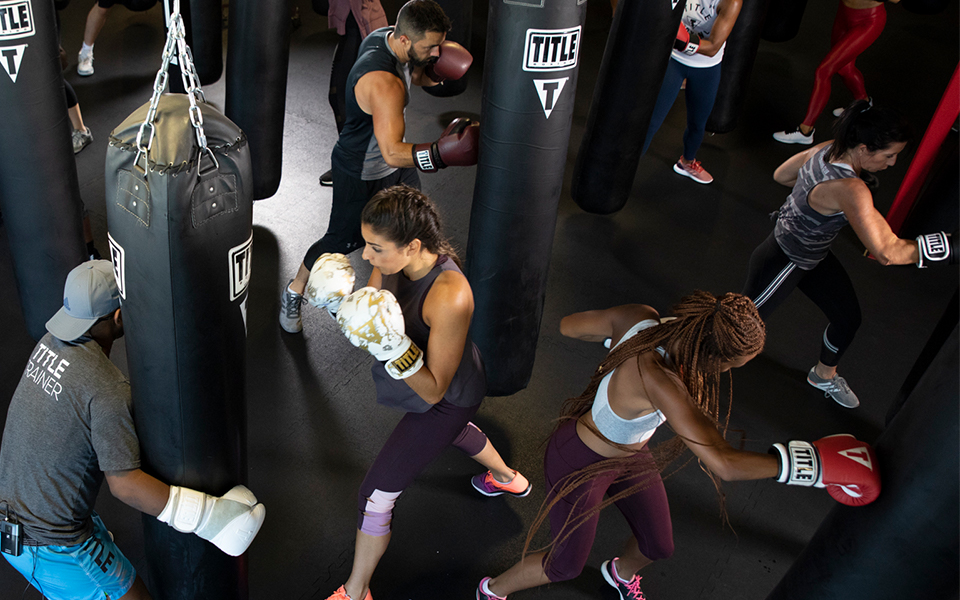 "TITLE has changed the way I workout. You get totally lost in the workout because it's about challenging yourself. Your trainers are there to guide you. All the trainers are great and bring something unique to each workout. It's never the same! I feel like family when I walk in! The best part is, it's fun and you actually see the results!"
– Lena, Arizona Member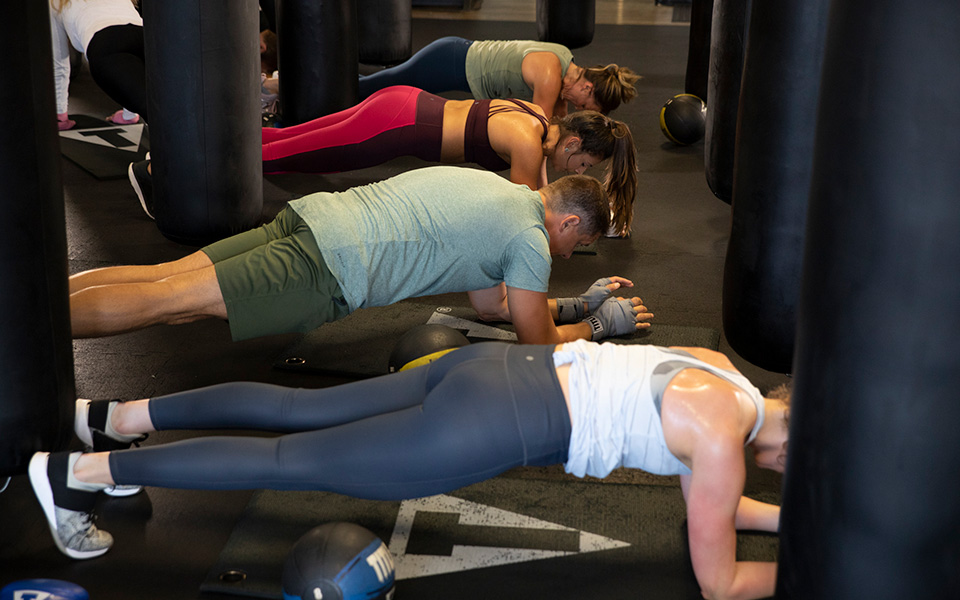 "I love how strong it makes me feel - after every class I'm left feeling exhausted but refreshed and I know that I've pushed my body past where I thought it could go. It's very empowering and fun!"
– Joey, Minnesota Member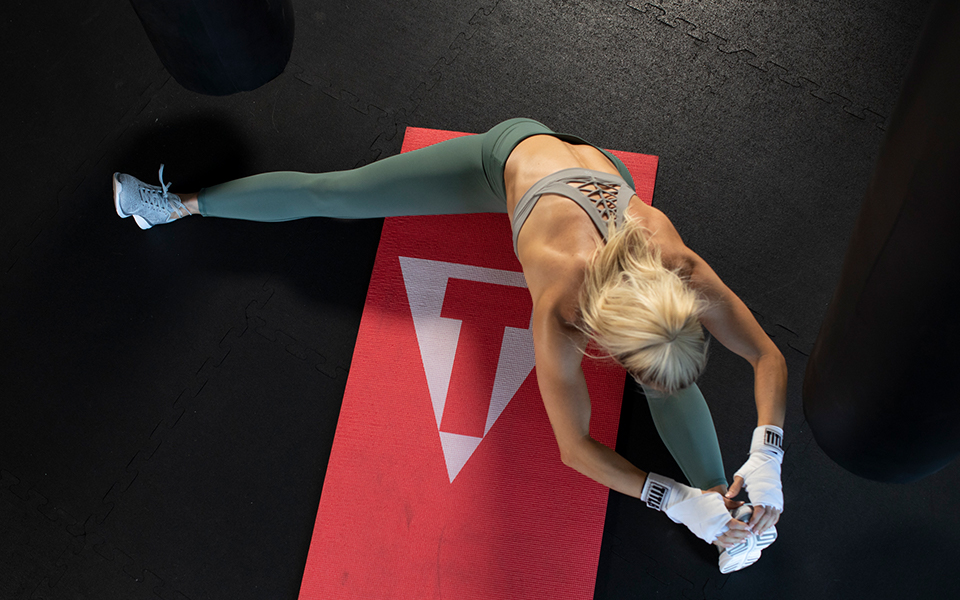 Additional Boxing Tips & Resources for Beginners
Check out these fun facts and recent blog posts to help you get the most out of your first boxing workout!
Consider investing in your own pair of hand-wraps, to help protect your hands and wrists
Looking for additional inspiration? Explore your preferred TITLE Boxing Club location. Meet the trainers, view a full class schedule, read other FAQ and more!