Authentic Heavy Bag Workouts
Take it out
on the bag

Louisville, KY. 40222
849 S. Hurstbourne Pkwy
502-630-0600
louisville@titleboxingclub.com

Open Today:

6am - 8pm
Your First Class
Let's make it happen together at TITLE Boxing Club Louisville Hurstbourne. We welcome boxers of all fitness levels and are in your corner to make your first class experience easy and fun.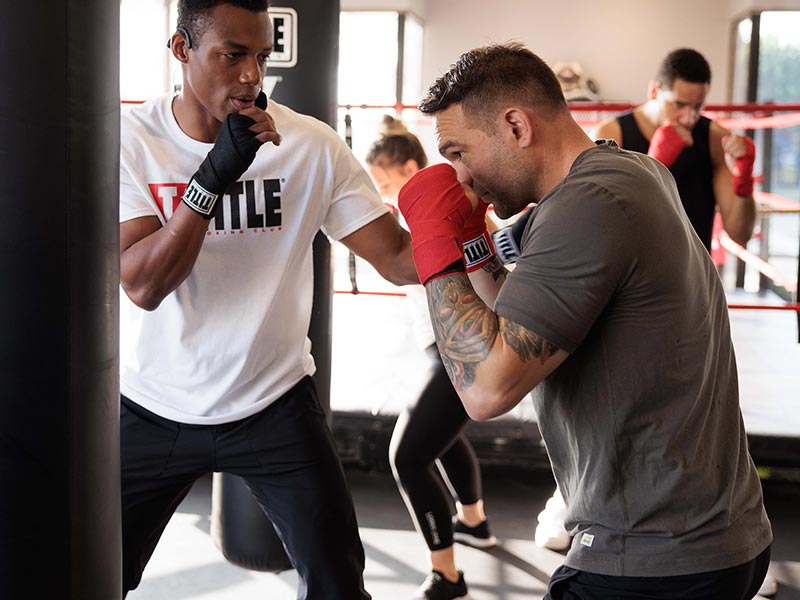 We have gloves that you can borrow for your trial class. We make sure they're cleaned and disinfected thoroughly after each class and replaced often. We recommend purchasing your own gloves after your first class. Best of all, TITLE Card members get a discount on gloves and wrap purchases.
We have gloves to borrow for your first time and you can purchase hand wraps here or bring your own. Hand wraps are required to use during class to protect your hands and wrists. We have water fountains in our clubs, and we encourage you to bring a water bottle and to drink plenty of water during and after class. The most important thing to bring with you is the attitude and belief that you can do anything you set your mind to.
We recommend wearing anything that makes you feel confident, especially workout apparel and shoes that you're comfortable sweating in. We have gloves to borrow for your first time and you can purchase hand wraps here or bring your own.
Of course! We know the best things in life are best shared—including being nervous to try something new! Convince your friend, colleague, partner or family member to sweat it out with you and you will have an accountability partner for life. When reserving your class simply tell us who you'd like to bring, and we'll make sure we reserve two bags.
We ask that you show up at least 30 minutes before your first class. We will give you a quick tour, so you know where everything is, show you to your locker and help you pick out your bag and first-time loaner gloves. You'll select a pair of hand wraps (you can bring your own or purchase them here) and we'll walk you through the basics of class as we wrap your hands. We don't expect you to know how to wrap your hands for both comfort and safety, so we can help you on your first time or every time. Finally, before class starts, we'll set you up with our trainer to show you how to throw the four basic punches that will be used throughout class. Best of all, if you ever get lost just go back to the basic jab, cross combination and a trainer will come by to show you any other technique.
Staying true to how boxers train, our workout starts with a warm-up, then moves into boxing or kickboxing rounds, and finishes strong building your foundational strength in your core. Boxing is a full-body workout and you can expect it to incorporate your arms, back, chest, core, legs and glutes in the various movements and combinations.
Our classes are a total-body workout inspired by the sport of boxing. People of all ages, all abilities and all fitness levels are side by side in class with you—think young professionals, moms and dads, fitness first-timers, handicapped individuals, people trying to lose weight, gain muscle, get better and go at their own pace. Once the bell rings and class begins, all of your fears reside and the class experience truly becomes only about you and the heavy bag.
Member spotlight
I love TITLE Boxing to tell you the truth. I'd tell anyone!
Dana S.
TITLE broke up the monotony of other workouts and gyms, motivating me to take those extra steps to reach my physcial health goals.
Daniel N.
Recent TITLE Boxing Club Louisville Hurstbourne
Blogs

Boxing: The Ultimate Stress Relief Workout
Exercise is considered vital for maintaining mental fitness. Boxing is a high-intensity workout that not only improves your physical fitness but also helps to reduce stress and tension. Heavy bag boxing fitness classes, like the ones at TITLE Boxing Club , offer a cathartic release that can help you feel more relaxed and focused. When […]
How To Wrap Your Hands For Boxing
Hand wraps are an essential piece of equipment for any heavy bag boxing workout, and this is especially true when it comes to classes offered at TITLE Boxing Club . These small but mighty pieces of gear provide crucial support and protection for your hands, wrists, and knuckles, helping to prevent injuries and improve your […]
TITLE Boxing Club Louisville Hurstbourne
Owner Bio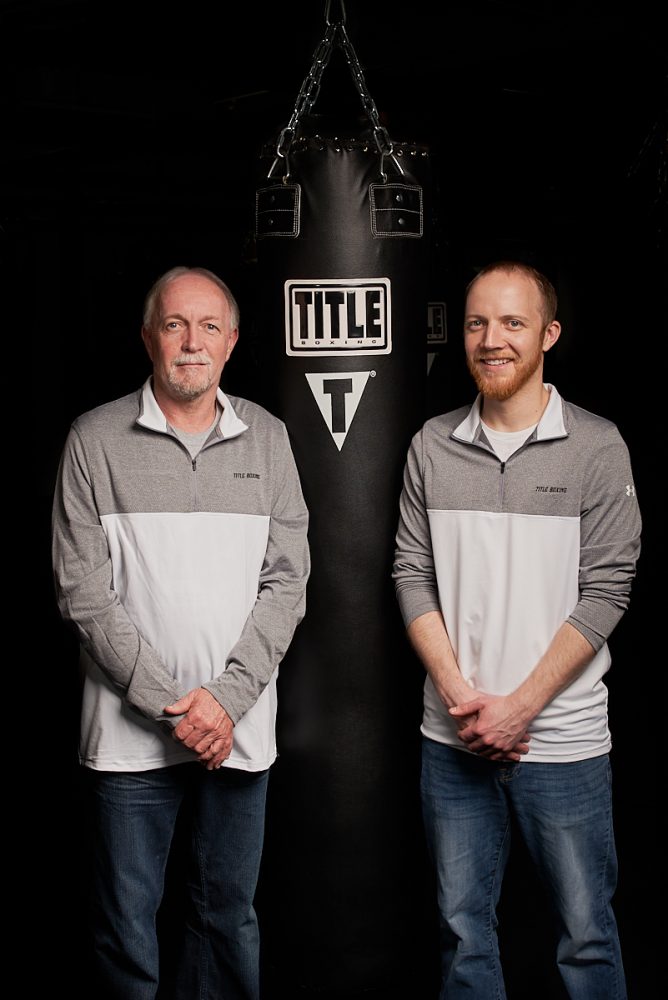 Hello Louisville, my name is Jason. My father and business partner, Mark, are excited to bring TITLE Boxing Club to Louisville! I began this journey as a member of the club in Clarksville, TN where I fell in love with TITLE for so many reasons. Before finding this amazing place I had tried so many times to get into fitness yet never found success in my attempts. After just a few classes at TITLE though, I realized I had finally found something that I genuinely enjoyed and was sure to whip me into shape! I loved the classes, the workout, the atmosphere, and most importantly the family! This was the most welcoming place I had ever walked into and everyone was so genuine.
I began seeing transformations in fellow members after being a member for only a few months. These people were losing weight, building self-confidence, and coming out of their shells right in front of me. Seeing those people transform their lives and bodies is in fact what motivated me to make this dream a reality. I then knew I wanted to be a part of this movement and wanted to bring TITLE Boxing Club to Louisville.
My father and I began discussing the franchise and what I had seen in my time there, we then decided we should look into it a little further. It didn't take long until we decided this is something we had found for a reason and needed to bring it to our community. It took over a year to find a space but the struggle was well worth it now that we get to see all of your smiling faces walk through those doors ready to CRUSH your goals! All that being said, we can't wait for you to join our family at TITLE Boxing Club Louisville.