Authentic Heavy Bag Workouts
Take it out
on the bag

Milford, CT. 06460
169 Cherry St
milford@titleboxingclub.com

Open Today:

7:30am - 12:30pm
Your First Class
Let's make it happen together at TITLE Boxing Club Milford. We welcome boxers of all fitness levels and are in your corner to make your first class experience easy and fun.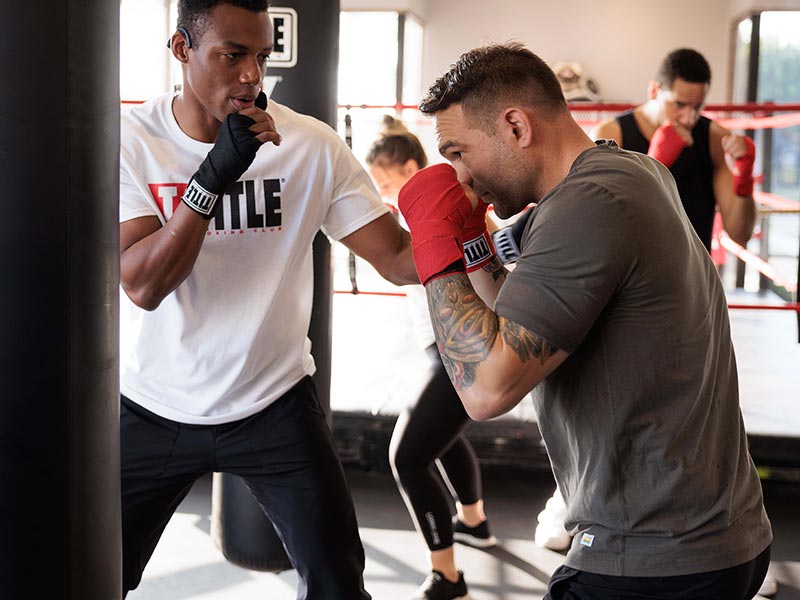 Member spotlight
I cannot recommend TITLE enough! The classes are fast, and fun and they play great music. Stop by to try a class and you'll see why so many people love TITLE Boxing Club!
Tara F.
I joined TITLE Boxing Club because I wanted to gain confidence. Now, I feel powerful and it's a blast learning to throw a punch. This has been so much more than just a boxing class.
Kathleen I.
Great workout head to toe – cardio, muscle building, losing weight…it's all right here. And the camaraderie you build with other members is second to none.
Daniel L.
Workouts are fun and taking your stress out by hitting a heavy bag is awesome.
Julie M.
I love this place! I had wanted to try boxing workouts for a while, but I was intimidated. I finally checked it out and I've been going ever since! Super fun and engaging workouts.
Cory A.
Recent TITLE Boxing Club Milford
Blogs

5 Fall Foods to Power Your Workouts
Incorporating seasonal fall foods into your diet can help enhance your boxing fitness workout by providing the necessary nutrients for energy, muscle recovery, and overall performance. Fall is known for its abundance of nutritious fruits and vegetables. Here are some fall foods in season that can benefit your boxing training at TITLE Boxing Club : […]
3 Reasons to Prioritize Weekend Workouts
For many of us, weekends often signify a break from the hustle and bustle of the workweek. While it's tempting to kick back and relax, incorporating a workout into your weekend routine can bring a range of physical and mental benefits. Here are three compelling reasons why you should consider breaking a sweat with TITLE […]
TITLE Boxing Club Milford
Owner Bio
Our Club Leadership
At TITLE Boxing Club Milford, we pride ourselves on being a place where anyone can achieve their fitness goals. Whether you are a college student, working professional, mom on-the-go, or retiree, we can offer you a workout that fits your fitness level and lifestyle. Our trainers and staff know how to challenge you and push your limits, and they will support you at every step along the way. TITLE Boxing Club Milford is more than a boxing gym — it is a community.
Since TITLE Boxing Club Milford opened in 2012, club leader Jen Fallot and her staff have focused on building a community that inspires and challenges our members.  We love our members, and we do our best to provide them with boxing for fitness classes that excite, motivate, and push them to be the best versions of themselves. With every jab, hook, and cross combination, we encourage our members to push through their personal challenges and leave it all on the heavy bag.
Our Boxing Club in Milford, CT
TITLE Boxing Club Milford is conveniently located in Milford Plaza, just 5 minutes off of the Connecticut Turnpike. Our gym is directly behind a Coastal Link bus stop, and we offer free parking for our visitors. With start times ranging from early morning to late evening, we can accommodate  your busy schedule! TITLE Boxing Club Milford is within walking distance of several restaurants, banks, and retail shops, so you can build in a visit to the gym while running errands. Each boxing class provides a full-body workout that uses the fundamentals of a true boxer's workout to strengthen arms, legs, back, and core muscles. No workout is more challenging or more convenient than the workouts offered at our boxing gym.
Private Training at TITLE Boxing Club Milford
Our trainers are incredibly knowledgeable about weight training and cardio, and they're passionate about working one-on-one with members to help them achieve their fitness goals. During private training sessions, our trainers will inspire you to be your best self, and they'll push you to your limits. By the end of your personal training session, you'll feel empowered to conquer whatever challenges stand in your way!
Join the TITLE Fam
Are you ready to engage your mind and body? Try a class at TITLE Boxing Club Milford! Call us at (203) 701-6100 or sign up now to get started! We can't wait for you to join our TITLE fam.
Want to see what our members have to say about their experience at TITLE Boxing Club Milford? Check out our Google reviews!