Authentic Heavy Bag Workouts
Take it out
on the bag

Nanuet, NY. 10954
253 W Route 59
nanuet@titleboxingclub.com

Open Today:

9:00am - 12:30pm
Your First Class
Let's make it happen together at TITLE Boxing Club Nanuet. We welcome boxers of all fitness levels and are in your corner to make your first class experience easy and fun.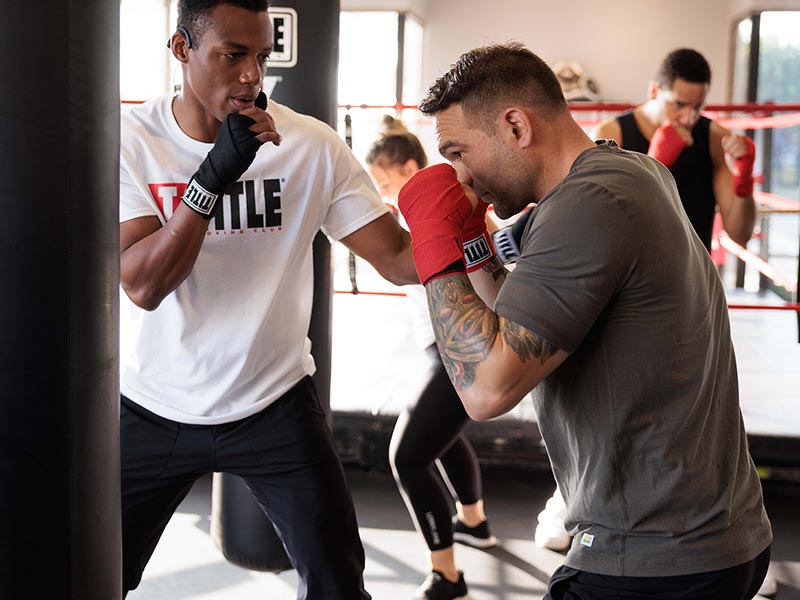 Come meet our General Managers Elvira and Olivia! We will be having great raffles, incentives, and promotions!
View Event
October is Breast Cancer Awareness Month . Each year in New York , about 16,700 women are diagnosed with breast cancer and about 2,500 women die from the disease. It is estimated that one in eight women will develop breast cancer during her life .
View Event
Come see the Title Boxing Team of Nanuet at the Nanuet Fall Festival!!
View Event
Halloween Eve Boxing Bash!!
Come to our Halloween Eve Boxing Bash Class on Monday October 30th 2023 at 5:30pm and bring a Ghoulish Guest Free! *This class is filling up fast! You must register both you and your guest prior to class . Please call or text 845-367-9777 .
View Event
Member spotlight
I have joined a number of gyms in the past, and have quit them all. TITLE is my longest standing relationship with a gym because it is special and different. I enjoy training at TITLE for a number of reasons, but what makes it stand out from the others is…
Kristina
Recent TITLE Boxing Club Nanuet
Blogs

5 Fall Foods to Power Your Workouts
Incorporating seasonal fall foods into your diet can help enhance your boxing fitness workout by providing the necessary nutrients for energy, muscle recovery, and overall performance. Fall is known for its abundance of nutritious fruits and vegetables. Here are some fall foods in season that can benefit your boxing training at TITLE Boxing Club : […]
3 Reasons to Prioritize Weekend Workouts
For many of us, weekends often signify a break from the hustle and bustle of the workweek. While it's tempting to kick back and relax, incorporating a workout into your weekend routine can bring a range of physical and mental benefits. Here are three compelling reasons why you should consider breaking a sweat with TITLE […]