Oct 3, 2018
Tim's Success Story
Here at TITLE Boxing Club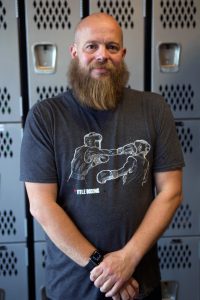 Nashua, NH, we're dedicated to providing boxing workouts that are challenging and effective. Each boxing for fitness class contains jab, cross, hook, and uppercut combinations that will help you burn calories and sculpt your body in an empowering, encouraging environment. Not to mention, our kickboxing and HIIT training classes also utilize a boxer's workout to train your core, back, and upper body.
Meet our TITLE member of the month, Tim Thompson. Tim has been a part of the TITLE Boxing Club Nashua, NH fam since the club first opened, and he has continued to be a great asset to our club. Here's what Tim has to say about his experience with TITLE:
Hello Title Family!

For all those that don't me, my name is Tim. I've been a member since they opened back in February 2018. At first, I was like: 'What am I getting myself into?!?' Especially when I think about my first or second class being just me and Coach Spazz (I know right?!?).

I guess my journey into this all started probably about 6 months before that. I woke up and looked at myself in the mirror – 45+ lbs overweight. For being an athletic person my whole life (swimming, hiking, working out, etc.), I had reach a point where I couldn't find the motivation to work out. This seemed to me rather strange, especially when working in the fitness/aquatic field as my career.

I found out about TITLE via Instagram. With watching that quick 30 second video, I was hooked… kind of?!? So I took my first class, and let me tell you, I wasn't the most perfect technically speaking. However, I was hooked!! I've found the instructors to be very knowledgeable, and you can see that in how the teach their classes. I definitely notice more of a quickness in my approach to the bag and better confidence in what I do in class. Finally, that being said, I've actually lost about 35lbs since joining TITLE and hopefully more to come.

You can usually find me in the M/W/F 12:15 30min classes but, I have taken all the classes from the 45min workout to the 90min class – whether boxing or kickboxing. Always stay #TITLESTRONG, family! 💪🏻
Thank you, Tim, for being such an awesome member of the TITLE Boxing Club, Nashua, NH community! We look forward to seeing you at your next class!