Authentic Heavy Bag Workouts
Take it out
on the bag

North Andover, MA. 01845
137 Turnpike St (Eaglewood Shops)
northandover@titleboxingclub.com

Open Today:

5:15am - 8:30pm
Your First Class
Let's make it happen together at TITLE Boxing Club North Andover. We welcome boxers of all fitness levels and are in your corner to make your first class experience easy and fun.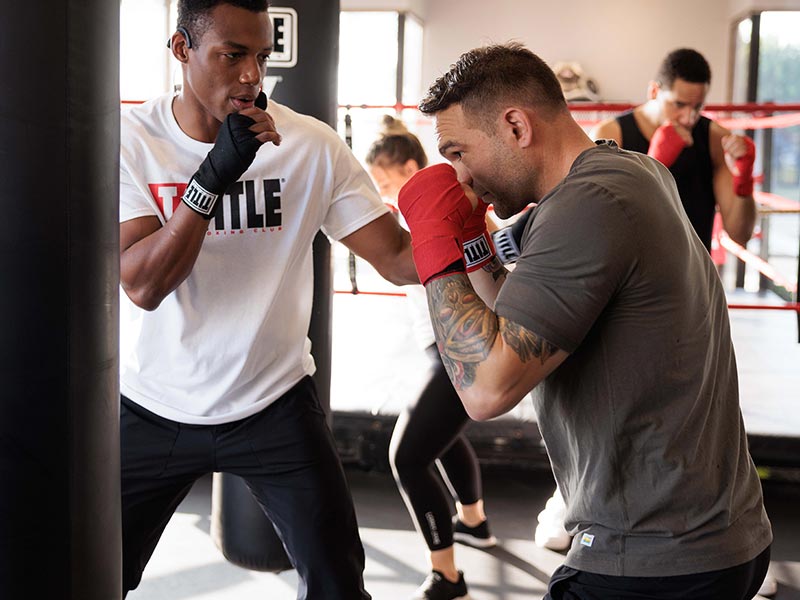 We have gloves to borrow for your first time and you can purchase hand wraps here or bring your own. Hand wraps are required to use during class to protect your hands and wrists. We have water fountains in our clubs, and we encourage you to bring a water bottle and to drink plenty of water during and after class. The most important thing to bring with you is the attitude and belief that you can do anything you set your mind to.
We recommend wearing anything that makes you feel confident, especially workout apparel and shoes that you're comfortable sweating in. We have gloves to borrow for your first time and you can purchase hand wraps here or bring your own.
Of course! We know the best things in life are best shared—including being nervous to try something new! Convince your friend, colleague, partner or family member to sweat it out with you and you will have an accountability partner for life. When reserving your class simply tell us who you'd like to bring, and we'll make sure we reserve two bags.
We ask that you show up at least 30 minutes before your first class. We will give you a quick tour, so you know where everything is, show you to your locker and help you pick out your bag and first-time loaner gloves. You'll select a pair of hand wraps (you can bring your own or purchase them here) and we'll walk you through the basics of class as we wrap your hands. We don't expect you to know how to wrap your hands for both comfort and safety, so we can help you on your first time or every time. Finally, before class starts, we'll set you up with our trainer to show you how to throw the four basic punches that will be used throughout class. Best of all, if you ever get lost just go back to the basic jab, cross combination and a trainer will come by to show you any other technique.
Member spotlight
I cannot recommend TITLE enough! The classes are fast, and fun and they play great music. Stop by to try a class and you'll see why so many people love TITLE Boxing Club!
Tara F.
I joined TITLE Boxing Club because I wanted to gain confidence. Now, I feel powerful and it's a blast learning to throw a punch. This has been so much more than just a boxing class.
Kathleen I.
Great workout head to toe – cardio, muscle building, losing weight…it's all right here. And the camaraderie you build with other members is second to none.
Daniel L.
Workouts are fun and taking your stress out by hitting a heavy bag is awesome.
Julie M.
I love this place! I had wanted to try boxing workouts for a while, but I was intimidated. I finally checked it out and I've been going ever since! Super fun and engaging workouts.
Cory A.
Recent TITLE Boxing Club North Andover
Blogs

Gym Bag Essentials for Boxing Fitness Classes
TITLE Boxing Club offers a full-body, authentic heavy bag workout designed to build your fitness, control your breathing, and clear your mind. To make the most of your class, it's essential to come prepared with a well-packed gym bag. Here's a checklist of what to include: Workout Apparel We recommend wearing comfortable workout clothes, such […]
Fitness Success – Showing Up For Yourself
Fitness journeys can be tough, filled with obstacles and moments of doubt. But at TITLE Boxing Club , we're here to remind you that there is immense power in showing up for yourself on the path to reaching your fitness goals. One of the most significant hurdles in achieving any fitness objective is simply getting […]
TITLE Boxing Club North Andover
Owner Bio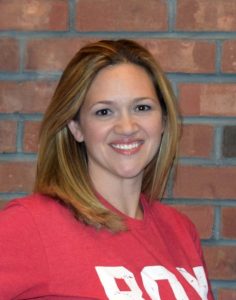 Whether you're a stressed-out mom or an average Joe, TITLE Boxing Club North Andover, MA is a boxing club where people of all bodies, all weights, and all abilities are welcome. From the moment you step into our boxing gym in North Andover, we want you to feel empowered in a supportive, encouraging community. There's something magical about hitting the heavy bag – you feel unstoppable, and we want our members to experience that feeling. Our club leaders are here to make your experience at TITLE Boxing Club North Andover the best hour of your day..
Our Boxing Club Leadership in North Andover, MA
At TITLE Boxing Club North Andover, we love our members and the community they've helped us build, and we're here to make TITLE better for them each and every day. Our club leadership focuses on offering the best workout in North Andover, MA by providing a place where people of all ages, all bodies, all weights, and all abilities can experience the most empowering, exhilarating, and addictive workout of their life. Through a series of jab, hook, and cross combinations, our trainers push members to overcome obstacles and reach their goals.
About The Owner: Lauren
Growing up in Massachusetts, Lauren was active in soccer and track for most of her life. A graduate of Tulane University (BSM, Marketing and Management) and The George Washington University (Masters, Law Firm Management), she spent over a decade in the legal field at firms in Dallas and Boston. In 2012, while visiting family in Kansas City, she fell in love with the TITLE workout and the positive, fun club environment. Between the people she met and the good, sore feeling that followed her boxing workout, she was hooked! In September 2013, she and her husband Billy opened the North Andover location, and they have loved every moment since. Due to the dedication of Lauren, her members, and her team, in 2022 and 2017 Lauren was recognized as the TITLE Boxing Club Franchisee of the Year. She has also been a member of TITLE's Franchise Advisory Council and is a member of the North Andover Merchants Association's Board of Directors.

Join Our TITLE Fam!
TITLE Boxing Club North Andover is located in the Eaglewood Shops in North Andover, MA near Chipotle Mexican Grill and Pier 1. Are you ready to hit the heavy bag? Make TITLE Boxing Club North Andover your new boxing club today by calling 844-926-9464 or signing up online! We can't wait to help you on your journey to health!