Authentic Heavy Bag Workouts
Take it out
on the bag

Boston, MA. 02114
226 Causeway St
northstation@titleboxingclub.com

Open Today:

6:30am - 8:00pm
Your First Class
Let's make it happen together at TITLE Boxing Club North Station. We welcome boxers of all fitness levels and are in your corner to make your first class experience easy and fun.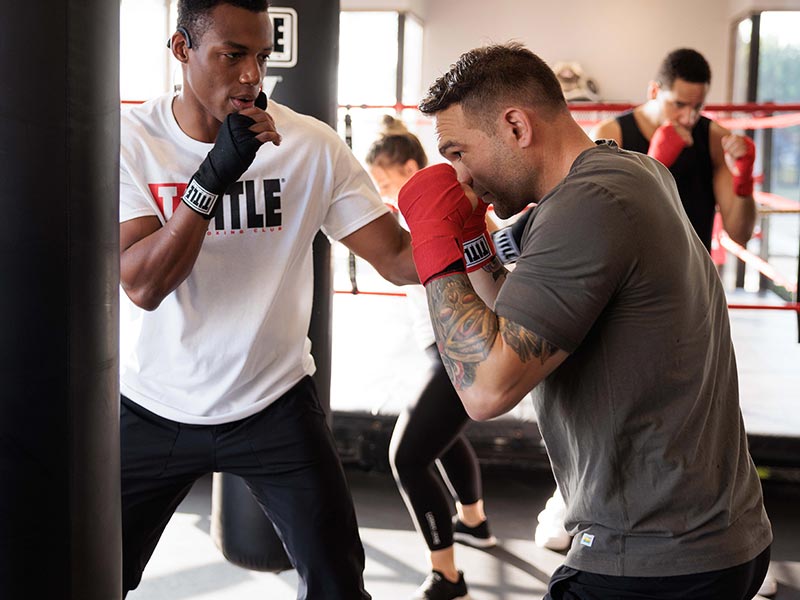 Member spotlight
I cannot recommend TITLE enough! The classes are fast, and fun and they play great music. Stop by to try a class and you'll see why so many people love TITLE Boxing Club!
Tara F.
I joined TITLE Boxing Club because I wanted to gain confidence. Now, I feel powerful and it's a blast learning to throw a punch. This has been so much more than just a boxing class.
Kathleen I.
Great workout head to toe – cardio, muscle building, losing weight…it's all right here. And the camaraderie you build with other members is second to none.
Daniel L.
Workouts are fun and taking your stress out by hitting a heavy bag is awesome.
Julie M.
I love this place! I had wanted to try boxing workouts for a while, but I was intimidated. I finally checked it out and I've been going ever since! Super fun and engaging workouts.
Cory A.
Recent TITLE Boxing Club North Station
Blogs

Fitness Success – Showing Up For Yourself
Fitness journeys can be tough, filled with obstacles and moments of doubt. But at TITLE Boxing Club , we're here to remind you that there is immense power in showing up for yourself on the path to reaching your fitness goals. One of the most significant hurdles in achieving any fitness objective is simply getting […]
Why TITLE Boxing Club Workouts Are For Anyone
When you think of boxing, you might envision a ring, gloves, and fierce competitors battling it out. But there's another side to this sport that's taking the fitness world by storm: boxing fitness. At TITLE Boxing Club , we believe that heavy bag workouts are for everyone, regardless of your age, gender, or fitness level. […]
TITLE Boxing Club North Station
Owner Bio
Our Club Leadership
At TITLE Boxing Club North Station, we strive to provide amazing TITLE Boxing classes to members of all ages, weights, and abilities. From college students to working professionals to moms on the go, our club leaders are here to give you the best workout in Boston, MA. Our goal is to provide an environment where you can be pushed to reach your goals while at the same time breaking out of your normal fitness routine. We're not just a boxing gym – we're a place where friends become family.
Since TITLE Boxing Club North Station opened in 2015, our club leaders have focused on offering the best boxing fitness classes for our members, day in and day out. We love our members and the community they've helped us build, and we aim to create fitness classes that challenge them to fight through mental roadblocks and the fatigue they face. With every jab, hook, and cross combination, we encourage our members to push through their personal challenges and leave it all on the heavy bag.
Our Boxing Club in Boston, MA
Based in one of Boston's most historical areas, North End, TITLE Boxing Club North Station is surrounded by an ever growing population of businesses, residential apartments, and condo complexes. We offer a variety of classes from early morning to late evening, so you can come over to the club during your lunch break or on your way home from work. Every class we offer gives you a full-body workout that incorporates the fundamentals of a true boxer's workout to strengthen your arms, legs, back, and core. From the moment class begins to the ring of the final bell, you'll get the support you need to achieve your goals.
Private Training at TITLE Boxing Club North Station
Our trainers have an extensive background in weight training and cardio, and they're passionate about working one-on-one with members to help them reach their goals. During these private training sessions, our trainers will inspire you to become the champion of your life, and they'll push you to your limits. By the end of your personal training session, you'll feel empowered to conquer your personal challenges.
Join the TITLE Fam
Are you ready to engage your spirit and your body? Try a class at TITLE Boxing Club North Station! Call us at 617-426-9464 or sign up online to get started. We can't wait for you to join our TITLE fam!
Want to see what our members have to say about their experience at TITLE Boxing Club North Station? Check out our Google reviews!