Overland Park 119th
7812 W 119th St, Overland Park, KS 66213 913-433-2582 Open Today: 5:30am - 8:00pm Monday: 6:00am - 8:00pm Tuesday: 5:30am - 8:00pm Wednesday: 6:00am - 8:00pm Thursday:5:30am - 8:00pm Friday: 6:00am - 8:00pm Saturday: 8:00am - 12:00pm Sunday: 8:00am - 12:00pm
TRY US FOR FREE
New to boxing?
Fill out the form and we will be in touch and get you scheduled for your free class.
Class Schedule
Click the link below to view our current class schedule and book a class today!
View Class Schedule
Meet Your Trainers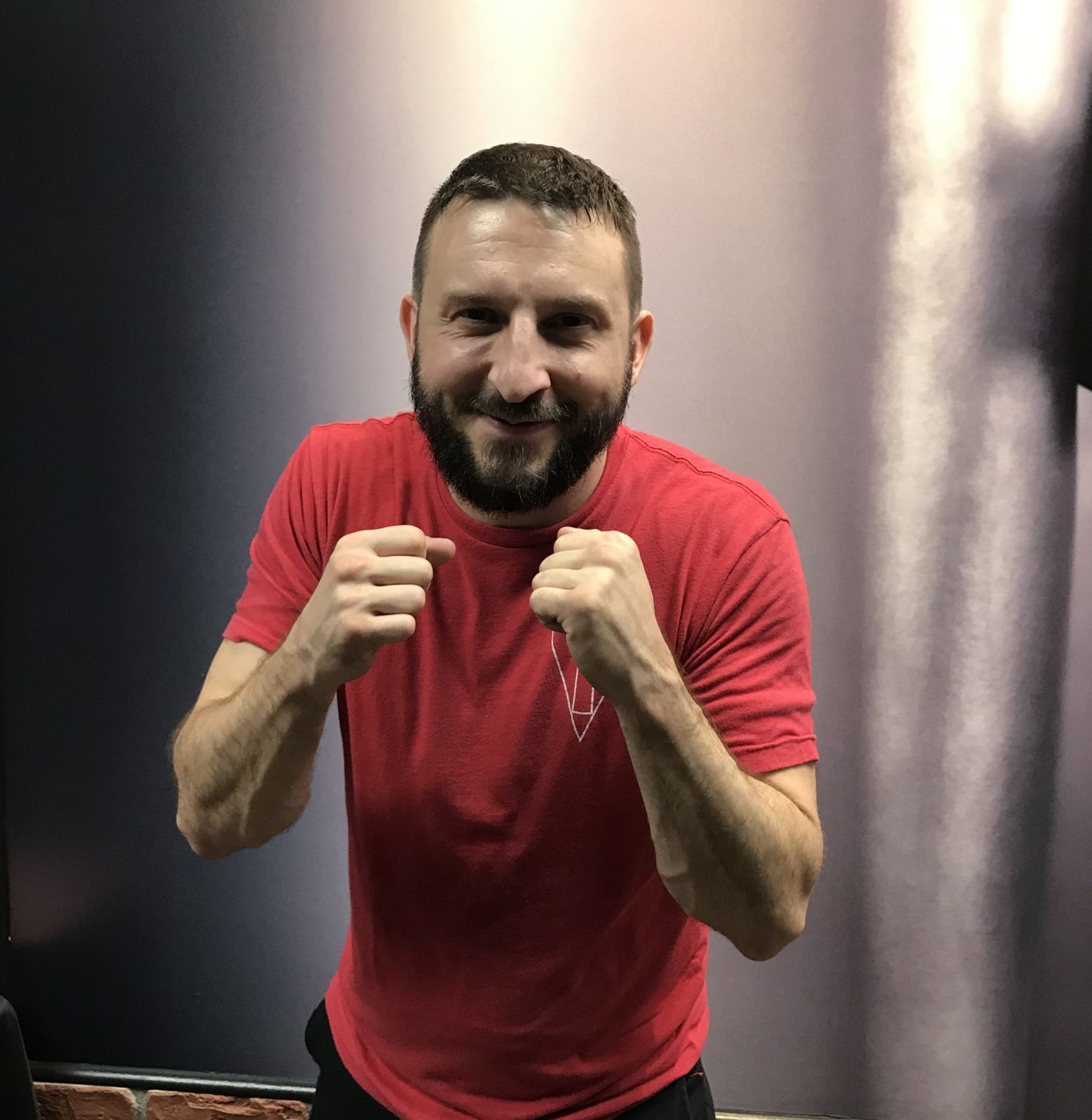 Jeff - General Manager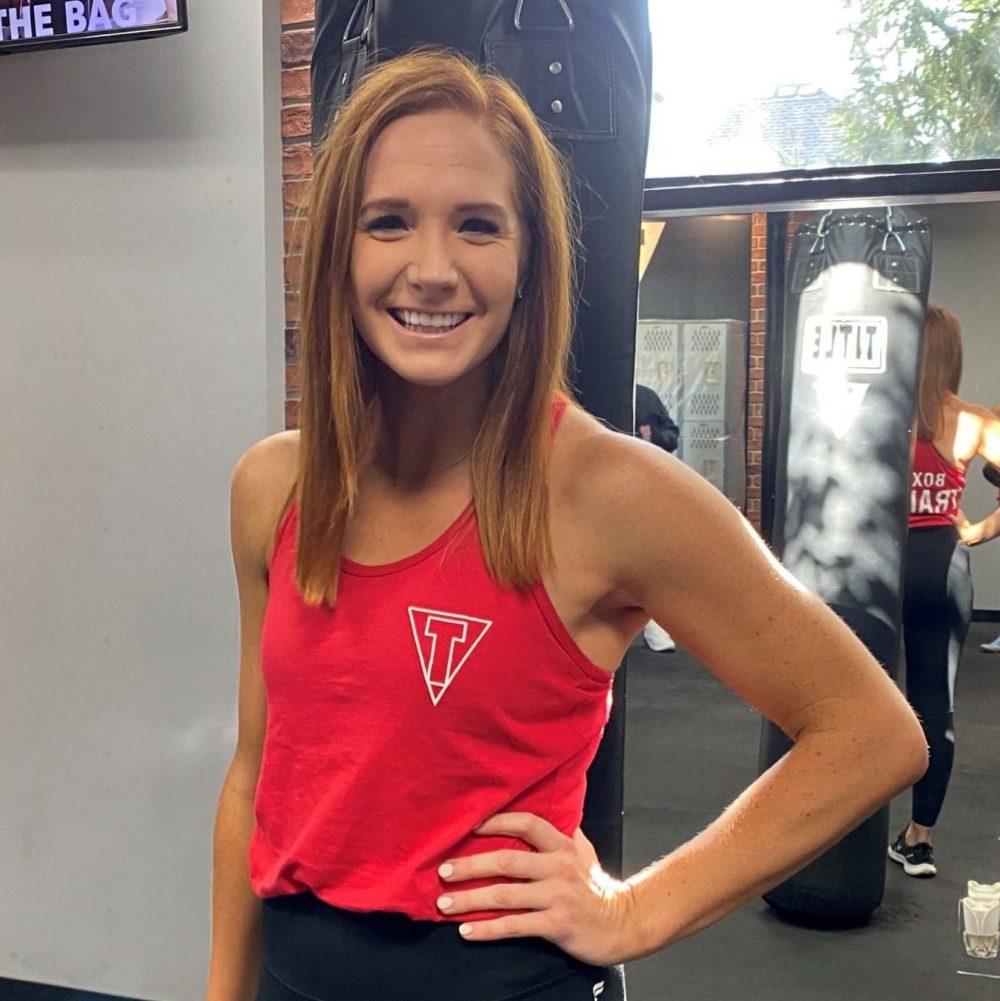 Amanda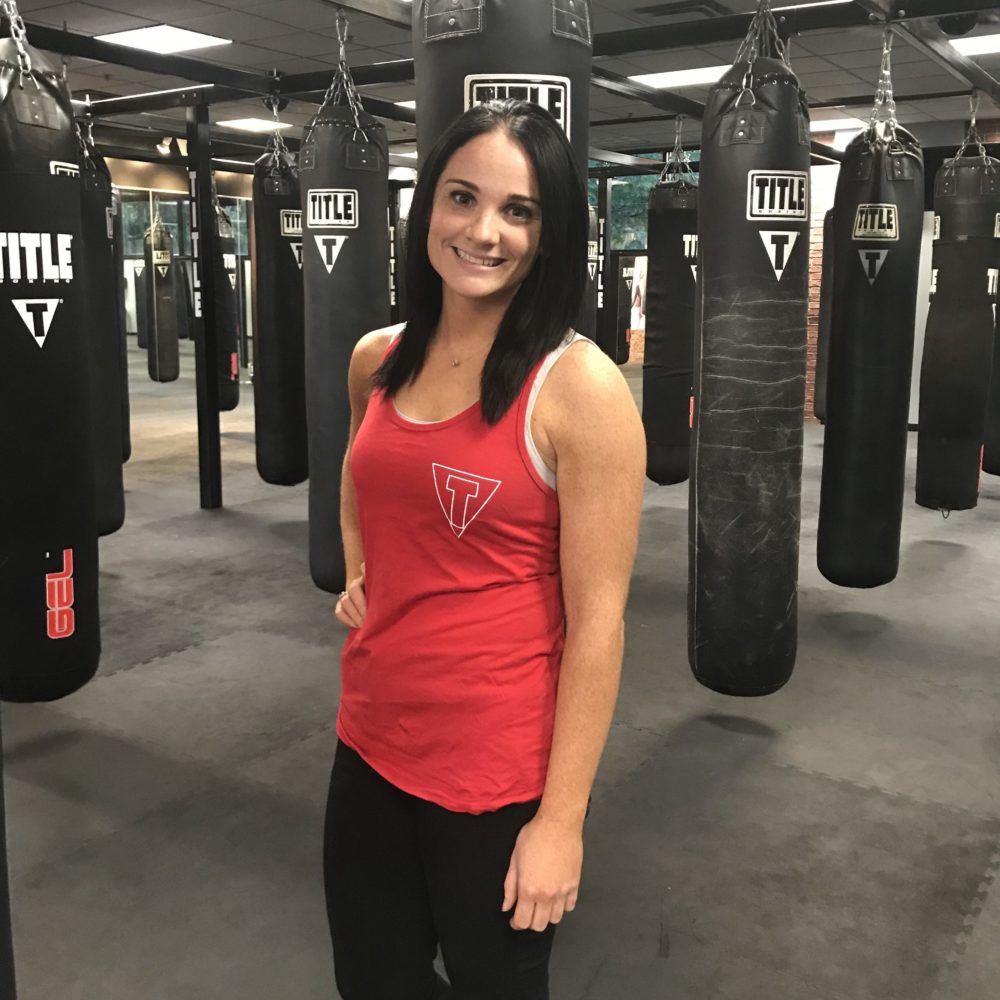 Kate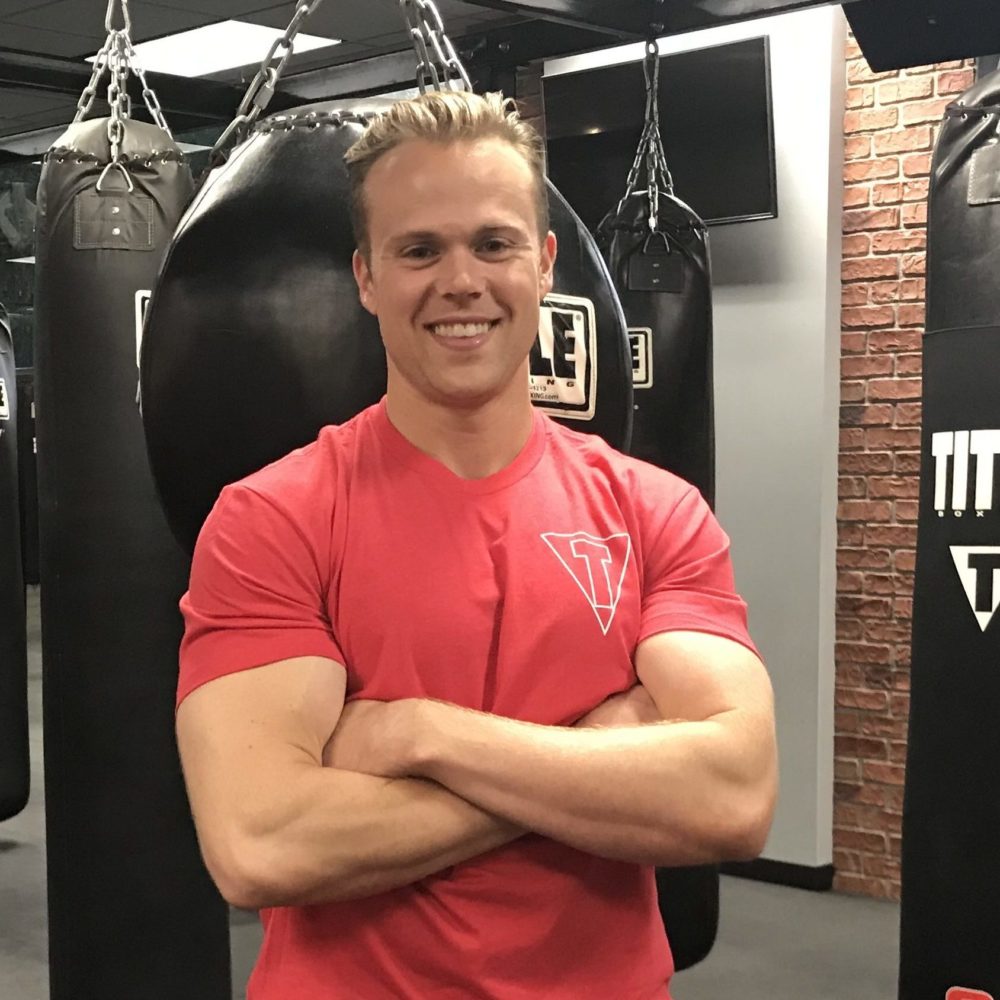 Joe
Razak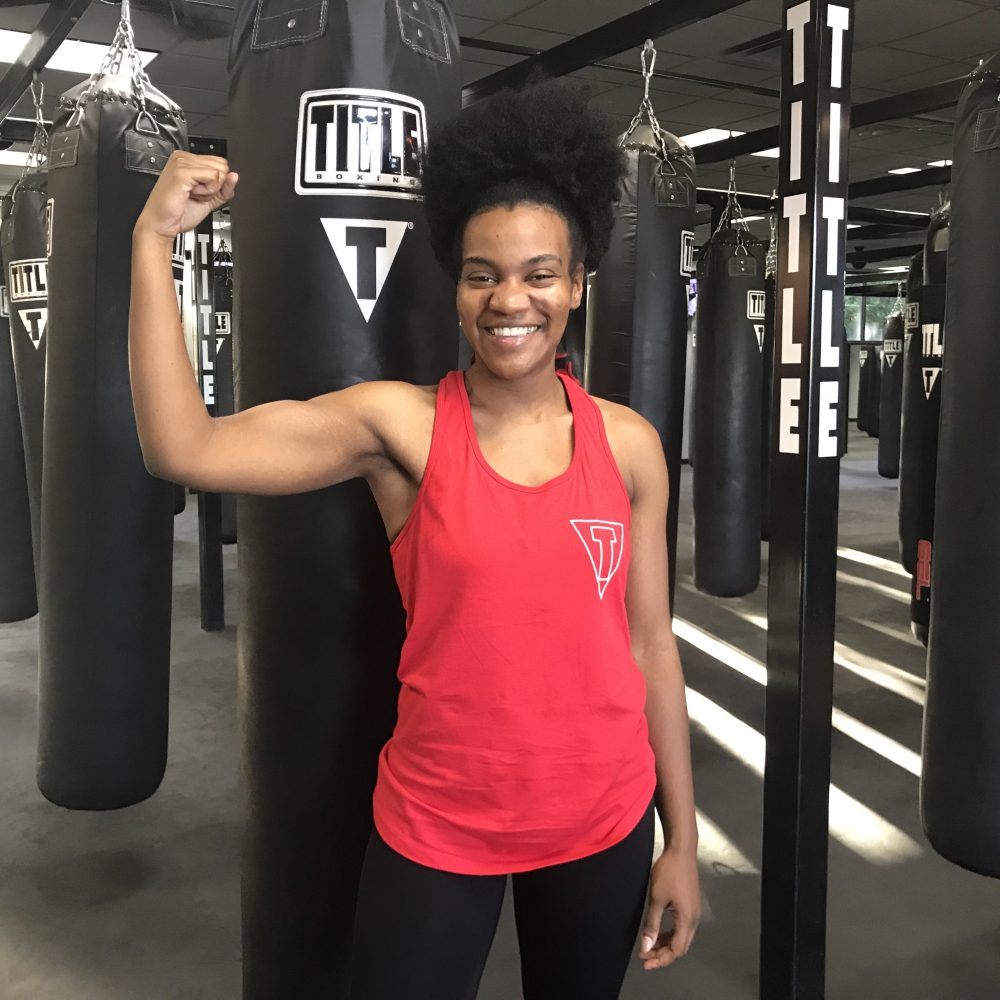 Phylicia
Shawn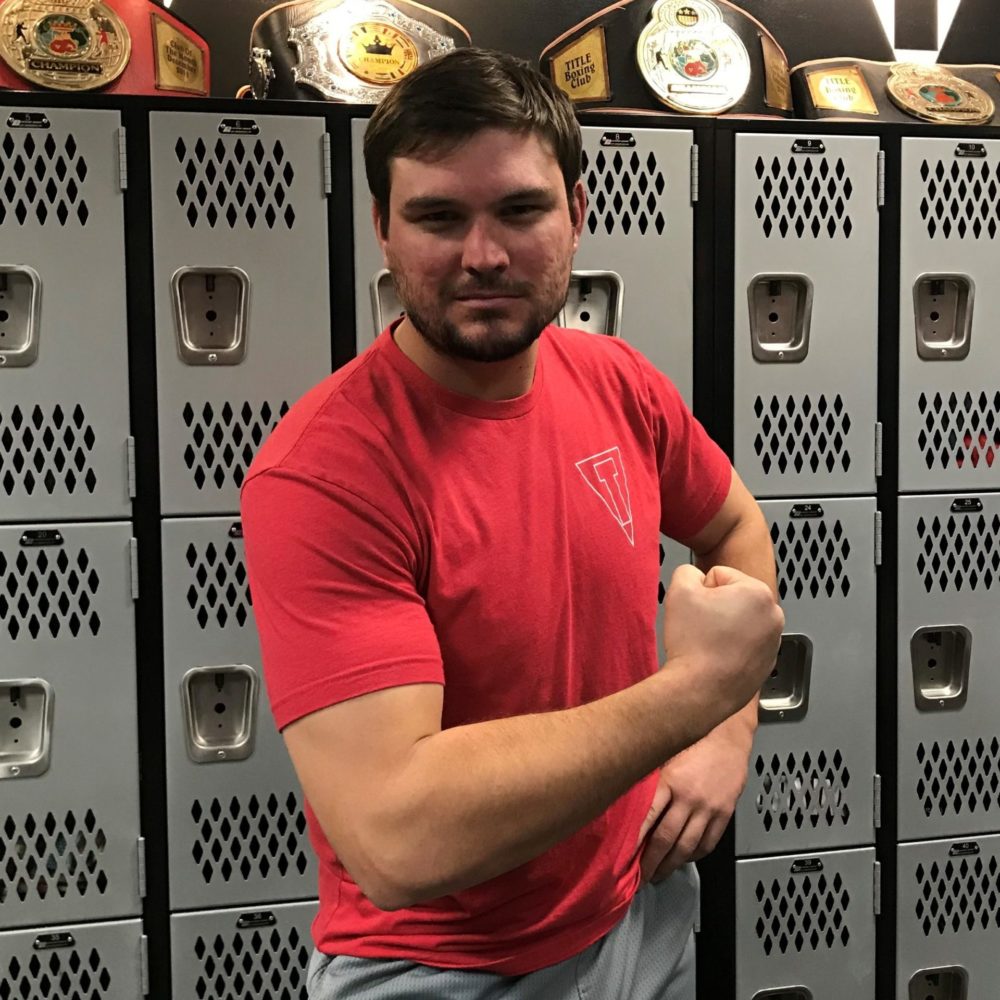 Mike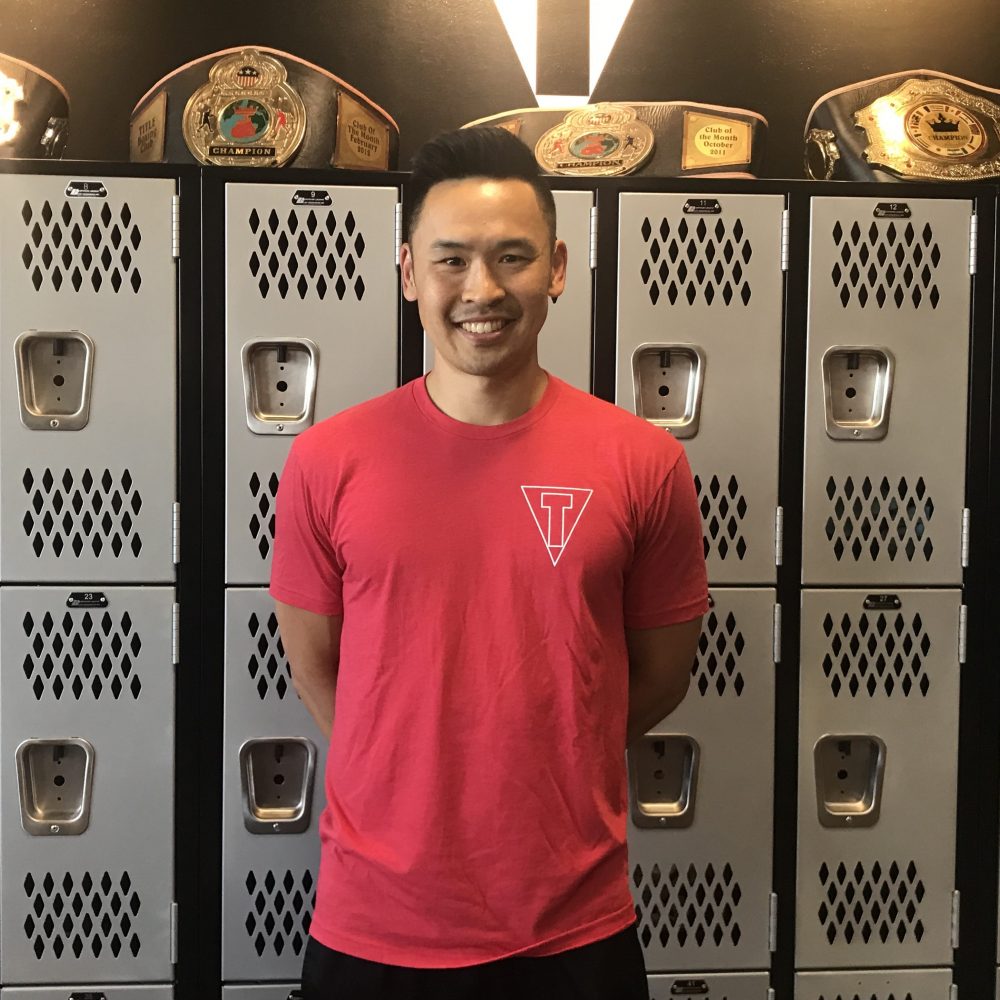 Darren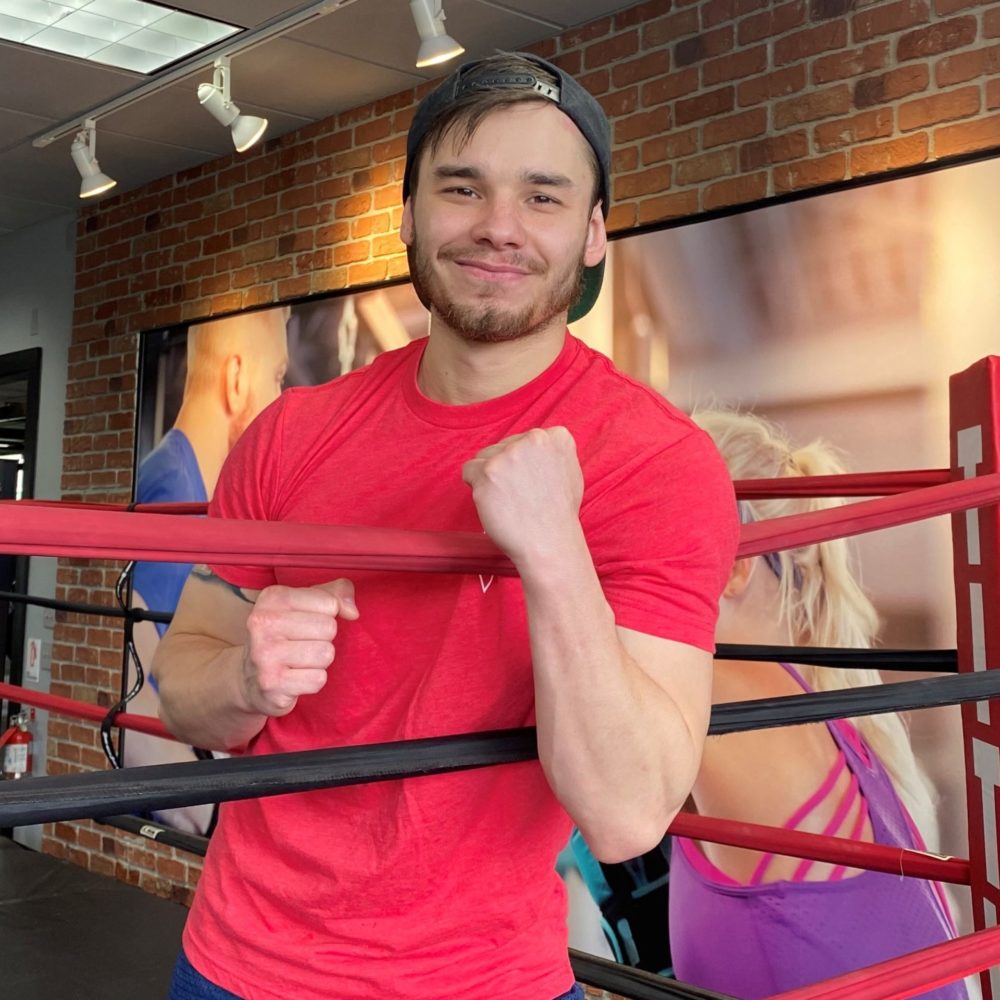 Chance
×
Jeff - General Manager
Growing up, Jeff had a passion for sports and played every and all different types that he could.  After graduating high school, he joined the Marine Corps in 2006, serving a tour in Iraq with 2nd Light Armored Reconnaissance Battalion and was honorably discharged in 2010.  After the Marines, Jeff found TITLE Boxing Club to be the best workout since leaving the Corps and became a club member in Montana in 2014. Shortly after joining, he was given the opportunity to become a trainer and eventually became the General Manager.  In 2017 Jeff returned to his hometown of Overland Park and began training classes at Club 1.  During his time at Club 1, he has held the positions of Head Trainer, Assistant General Manager, and in May of 2019 became the General Manager.  Jeff takes that fighting spirit into every class he teaches and expects excellent work from his co-workers.
My personal mantra:
"Efficient Violence" and "Kick A$$"
My training style is:
Brave
My why:
I enjoy the opportunity of helping people reduce stress and gain confidence in a fun, motivating workout!
What gives me my fighting spirit:
My son and the Marine Corps
×
Amanda
Amanda grew up in Illinois playing volleyball, basketball, and softball. After graduating high school, she moved to Kentucky where she received her Bachelor's degree in Social Work.  In 2016 Amanda moved to Kansas City where she then completed her Master's Degree in Social Work. Amanda now works as a mental health social worker in the Kansas City area and has always had a passion for helping others.  Motivating and transforming others is a very important part of Amanda's life both professionally and personally.
My personal mantra:
Challenge yourself!
My training style is:
Connected & Heart
My why:
The energy and atmosphere at TITLE Boxing Club! When I began working out here as a member, the trainers I worked with helped to motivate me and build my confidence. I immediately set a goal for myself to become a trainer so I could positively impact someone the way the trainers impacted me.
What gives me my fighting spirit:
My understanding in the importance of self care and how it positively impacts individuals both physically and mentally.
×
Kate
Kate has been passionate about fitness her entire life.  In high school, she played basketball, soccer and danced. Kate pursued running and boxing while in college earning her bachelors degree in Psychology and Sociology, and masters degree in Public Administration. Prior to moving to Kansas, Kate worked as a kickboxing instructor in upstate New York for three years.
My personal mantra:
Wake up, show up, and never give up!
My training style is:
Energetic
My why:
I'm passionate about helping others and being a part of their fitness journey. The members at TITLE inspire and motivate me to be better!
What gives me my fighting spirit:
My family, my boyfriend and his girls.
×
Joe
Joe has extensive experience in a variety of sports such as soccer, baseball, basketball, track, cross country, track and weight training. He has also competed in two bodybuilding shows as well as multiple amateur kickboxing fights in the Kansas City area. Joe has been a certified personal trainer for over seven years and holds additional certifications in performance enhancement, corrective exercise, and nutrition.
My personal mantra:
Breathe, Believe, Become.
My training style is:
Authentic
My why:
I enjoy the atmosphere, members and staff at the 119th location.
What gives me my fighting spirit:
I have faced adversity throughout my life as mosts people have. I choose to keep my head up and do my best to enjoy the happy moments while learning and growing from the more frustrating ones.
×
Razak
Razak has been involved in sports and martial arts the majority of his life. At a young age he learned Taekwondo, and later taught at a martial arts school as a black belt. While in college earning his bachelors degree in business administration, Razak began training in mixed martial arts and became a professional fighter in 2007.  Outside of martial arts, Razak has also participated in basketball, track and weightlifting. With over 13 years of MMA experience which includes two fights in the UFC, Razak currently holds a record of 13-5 record.
My personal mantra:
No pain, no gain!
My training style is:
Transforming
My why:
I have a passion for teaching and TITLE has a reputation of excellence.
What gives me my fighting spirit:
The purity of unarmed combat; knowing my limits and pushing past them to be the best version of myself I can be.
×
Phylicia
Phylicia was active in both middle and high school in tennis, track & field, and basketball. After high school she continued playing tennis and began kickboxing in 2015 in Maryland. Phylicia went on to train in Muay Thai, Brazilian Jui Jitsu and recently began competing as an MMA fighter.
My personal mantra:
If you fail to plan, then you plan to fail.
My training style is:
Energetic
My why:
I like to connect with people and aid them in their fitness journey. What better place to do it then TITLE Boxing Club?!
What gives me my fighting spirit:
My family.
×
Shawn
Shawn has been a trainer with TITLE Boxing Club since November 2015.  He's played football for 20 years; high school, college and currently semi-pro for the KC Bulldogs.  He has a passion for fitness and loves to help people and push them to their limits.  Anyone who knows him knows his favorite superhero is Superman and training the way he does, he is often referred to by friends and members as "Superman".
My personal mantra:
You've got him on the ropes, now you've got to knock him out! Finish the fight!
My training style is:
Connected
My why:
I love working out and love training people, TITLE gives me the opportunity to do both.
What gives me my fighting spirit:
My family and friends; they always encourage me to push for greatness and hold me to a standard of excellence.
×
Mike
Mike is a multiple sport athlete and found his way into college athletics through baseball.  After finishing his baseball career, he decided to extend his athletic career through Mixed Martial Arts.  He has been training for six years and is now a professional fighter with aspirations of elevating his MMA career.  Just as physical fitness has helped him, he hopes to inspire others to help themselves by changing both mentally and physically to lead a more healthy life.
My personal mantra:
Work , hard work and dedication!
My training style is:
Heart
My why:
I want to help others. I believe through knowledge and hard work that anything is possible.
What gives me my fighting spirit:
I have a passion for life and try to live it to the fullest. I have suffered many personal defeats and still strive to wake up positive each morning.
×
Darren
Darren is a KC native and has played many sports throughout his life.  He competed and played tennis at the NCAA Division 1 Level and earned a BS in Mechanical Engineering at UMKC.  Darren also received a MS in Mechanical Engineering from Wichita State and a MBA from UMKC. He's also a Certified Tennis Professional through the USPTA (U.S. Professional Tennis Association).  He became a member of TITLE in 2011 and through the years has had the opportunity to take classes from numerous clubs and a variety of trainers.  In the fall of 2016 he became a TITLE trainer and in September of 2017 he became a NASM Certified Personal Trainer.  Darren strives to take everything he's learned to help individuals reach their goals, break through comfort zones and redefine personal limits in a fun and motivating manner.
My personal mantra:
Hard work beats talent when talent fails to work hard.
My training style is:
Authentic
My why:
First, it's fun. Second, and more importantly, to lead and be a part of a diverse group of people that share a common goal is amazing.
What gives me my fighting spirit:
My Parents. Their sacrifices and selfless love to provide a better life for my siblings and I, fuel me to always be better.
×
Chance
Chance has been a mixed martial artist since the age of 14.  He has experience in a variety of MMA such as boxing, kickboxing, wrestling, Muay Thai, Brazilian Jiu Jitsu, Judo and Krav Maga.  Chance has a passion for fighting and has been training and competing as a amateur MMA fighter in the Midwest for the past six years.  His personal goal is to become a professional fighter and to ultimately compete in the UFC in the future.
My personal mantra:
Things always get better, you can't succeed without failing first.
My training style is:
Heart
My why:
Training is something I love and when I am at TITLE I am in my element. I also like seeing people succeed and watching their passion grow, it's moving.
What gives me my fighting spirit:
My passion for MMA and pursuit to be a champion.
Apr 16, 2021
10 Reasons to Try Fitness Boxing Classes
Read More
FEBRUARY MEMBERSHIP SPOTLIGHT: Cindy
You have to invest in yourself... you're worth it. Meet Cindy! A determined and bubbly TITLE Boxing Club Ahwatukee… Read More
Loyalty Beyond the Bag
With a Net Promoter Score of 87%, our members are happy to recommend us to others.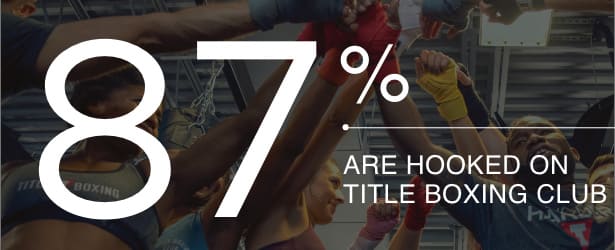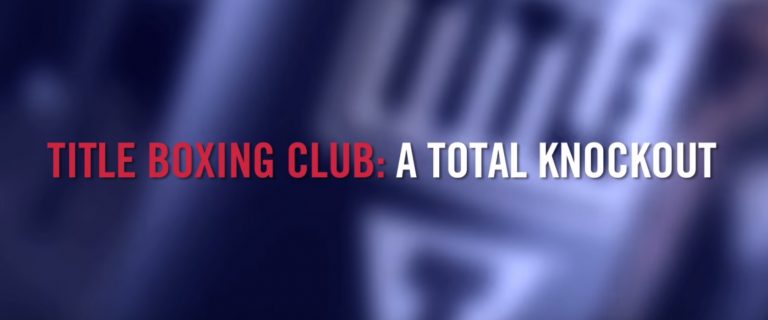 Join the TITLE Boxing Club Movement
While our clubs across the country have been busy building your strength and confidence, we've also been spotted on the news, in magazines and online – and people can't seem to get enough of our growing brand! Check it out for yourself!
Our Club Leadership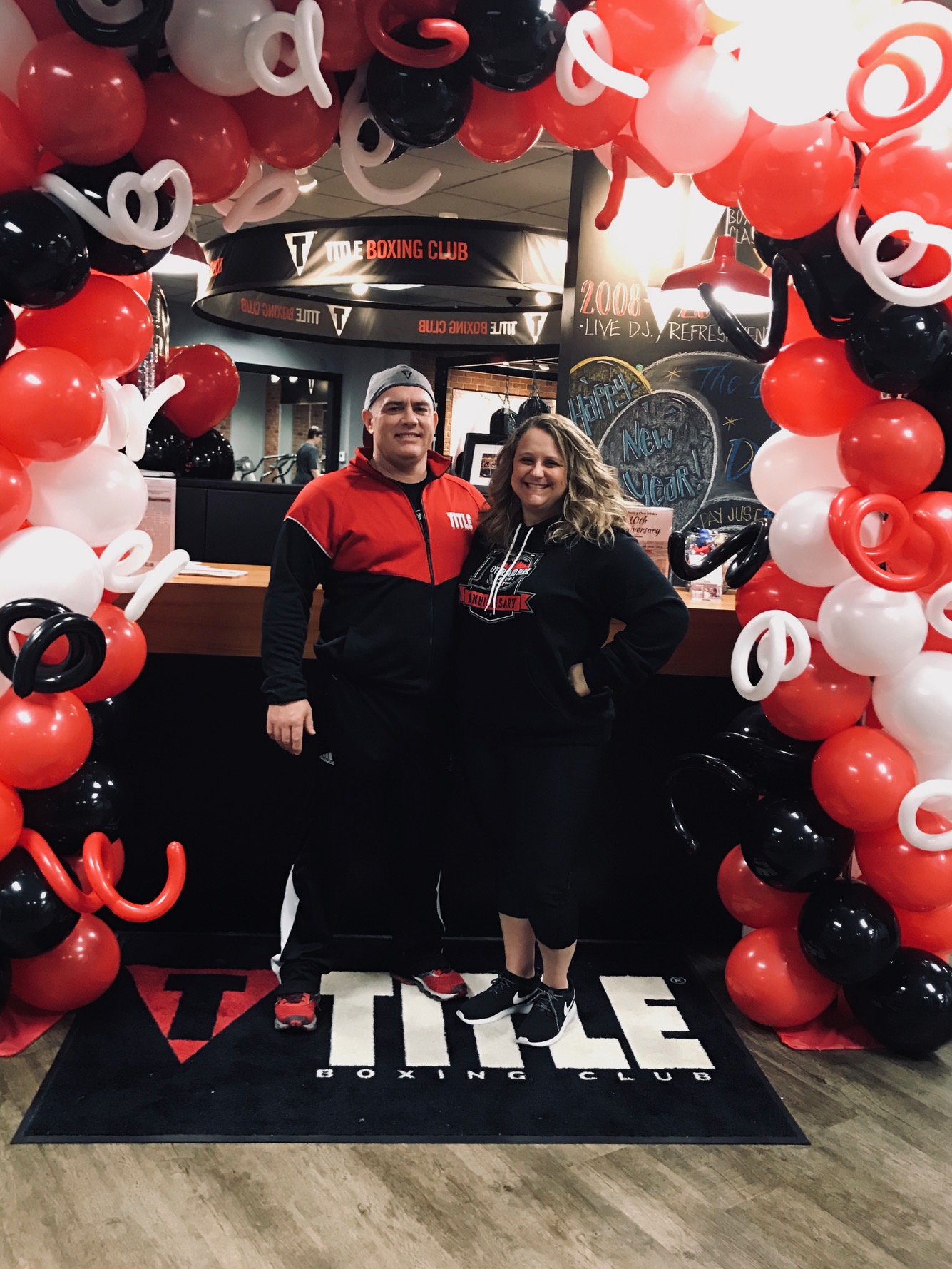 Kimberly and Gregg first began their journey with TITLE Boxing Club as members in 2012. In January of 2016 they purchased Club 1, the first TITLE Boxing Club in the nation, from founder, Danny Campbell. Kimberly and Gregg take pride in their talented staff, the quality of the services the club has to offer, and the amazing members that help to create the positive community within the club.
FAQ's
I've heard the classes are intense; do I need to be in great shape to do the workouts?

It doesn't matter if you haven't worked out in a while or have never boxed before, you can finish the workout feeling great! You'll see that everyone goes at their own pace, but believe us that once you're here, you'll be inspired to give it your very best!
I don't want to get hit; is this a contact workout?

No—not ever! Each person in class has their own heavy bag to workout on, plus their own space to move around the bag. Trust us, you won't even realize anyone else is in the class because you'll be so focused on the workout! And, rest easy, we never allow sparring or fighting at TITLE Boxing Club.
What makes TITLE different than other fitness studios?

Boxing is a great workout, perhaps one of the most challenging of all sports, and we want to bring you the intensity of the training, minus the impact. We'll teach you how to roll with the punches by pushing you further than you thought possible.
I'm new to boxing; will someone show me the basics?

You bet! All of our classes are taught by instructors who will show you the ropes from the beginning. We'll help you wrap your hands and walk you through the basic fundamentals. Everyone in class is at a different level, so take a deep breath and go at your own pace!
Can I bring my children with me?

We do not offer childcare services at TITLE Boxing Club. However, children over the age of eight are welcome to work out with you here and join as a member! Ask us about our Family Membership options.
What do I need to bring to class? How early do I need to arrive?

Hand wraps are essential for your protection and mandatory for class. You can bring your own or buy them here. We'll have gloves for you to borrow your first time, and you might want to bring a bottle of water and towel! Plan on arriving 20 minutes early so we can get you settled and wrap your hands.
I've never hit anything before. Will I hurt myself?

For a beginner, the most important thing is to learn the proper form. The good news is that we'll teach you! As you progress, you'll be able to throw several variations of punches from different positions and develop your own punching technique to fit your style. People are usually surprised at how much they love hitting the heavy bag!