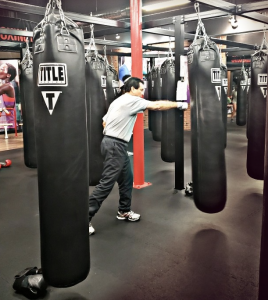 Tino Ballesteros, Jr., member of TITLE Boxing Club Pensacola, FL, has been a great asset to the TITLE family over the last year. Coming from California, he was not only looking for a local fitness studio near him, but one that embraces and cares about its' members. Here at TITLE Boxing Club Pensacola, FL we want our members to feel as if we always have their best interest in mind and will work to help them achieve their goals.
Our trainers specialize in fitness techniques that focus on providing a full-body workout. The high intensity interval group classes consist of 4 sections: warm up, rounds, active rest, and core and cool down. During the workout, our trainers will walk around showing you the in's and out's of each punch and kick – jab, uppercut, cross, hook, and kick. We ensure that you will be shown proper technique in order to maximize the workout that we provide.
TITLE Boxing Club Pensacola, FL is also a partner to Rock Steady Boxing. Rock Steady Boxing is a non profit organization that helps assist in giving people with Parkinson's disease hope. They do this by providing them will tools and a facility to participate in non-contact boxing. We are large believers is helping our community and continuing to the spread the knowledge of fitness and health.  
Our member Tino, has been a part of this team and has influenced the culture that we facilitate. We are very proud of his progress within the club and we will continue to help him better his fitness and to achieve his goals. Here is what Tino has to say about his experience at TITLE Boxing Club Pensacola, FL,:
Jack Nicholson and Morgan Freeman had their Bucket list. I had one too, mine was boxing. And last year, that journey took me from California to Pensacola, Florida, and to TITLE Boxing Club on Nine Mile Road. Owners, Doug and Beth, have created a climate of trust and rapport. Instructors, without exception, make favorable impressions upon first meeting and lead classes with cheerful, personal magnetism. And under their care, novices like me, find the motivation to improve within this ongoing environment of encouragement.Rock Steady, boxing for those with Parkinson's Disease, stands out as the most remarkable aspect of this club. Transformation stories, bordering on the miraculous, abound here Monday, Wednesday and Friday afternoonsIn addition to Michael, I give special thanks to Dana and Kellsie for their professionalism and personal attention. This is a remarkable, bucket list-worthy group of folks.

-Dr. Tino Ballesteros, Jr.
Thank you Tino for working hard throughout our strength and endurance classes. We are proud that you have taken a boxer's workout and have implemented that into your workout routine! Thanks for being a part of our TITLE Boxing Club Pensacola, FL family!