Authentic Heavy Bag Workouts
Take it out
on the bag

Plano, TX. 75093
6101 Windhaven Pkwy, Suite 130
972-378-0006
plano@titleboxingclub.com

Open Today:

11:00am - 8:00pm
Your First Class
Let's make it happen together at TITLE Boxing Club Plano. We welcome boxers of all fitness levels and are in your corner to make your first class experience easy and fun.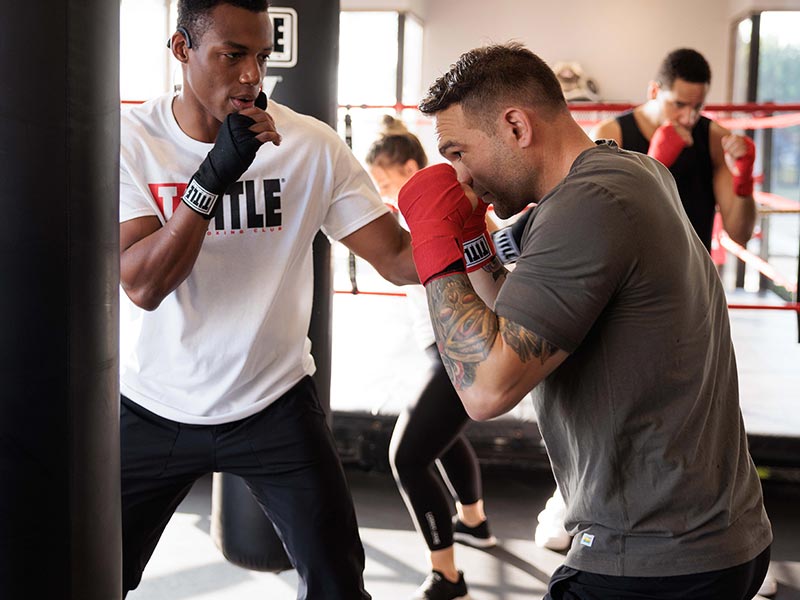 Member spotlight
I cannot recommend TITLE enough! The classes are fast, and fun and they play great music. Stop by to try a class and you'll see why so many people love TITLE Boxing Club!
Tara F.
I joined TITLE Boxing Club because I wanted to gain confidence. Now, I feel powerful and it's a blast learning to throw a punch. This has been so much more than just a boxing class.
Kathleen I.
Great workout head to toe – cardio, muscle building, losing weight…it's all right here. And the camaraderie you build with other members is second to none.
Daniel L.
Workouts are fun and taking your stress out by hitting a heavy bag is awesome.
Julie M.
I love this place! I had wanted to try boxing workouts for a while, but I was intimidated. I finally checked it out and I've been going ever since! Super fun and engaging workouts.
Cory A.
Recent TITLE Boxing Club Plano
Blogs

5 Ideas for An Active Rest Day
If you're a regular at TITLE Boxing Club or someone who loves intense workouts, you probably know the importance of taking rest days. However, taking a rest day doesn't mean you have to be sedentary or inactive. Instead, an active rest day can help you recover faster and prepare you for the next workout. Here […]
Mastering the Jab: How to Fix Common Mistakes
Boxing classes, like the ones we offer at TITLE Boxing Club , are a great way to improve your overall fitness and coordination. The jab is one of the most important and basic punches in boxing, and it's essential to master the proper technique to get the most out of your TITLE Boxing Club experience. […]
TITLE Boxing Club Plano
Owner Bio
TITLE Boxing Club Leadership
At TITLE Boxing Club Plano, our goal is to provide the best possible workout in Plano, TX on a daily basis. Our family-friendly environment is for anyone who wants to achieve their fitness goals – from stressed out college students to retired adults to moms on the go. No matter your age, body type, weight, or experience level, our boxing gym is a place where you can be your best self. Our staff strives to bring an awesome workout to everyone that steps through our door. Ultimately, we spare no effort in order to deliver the BEST hour of your day.
Meet Our Club Leaders in Plano, TX
Since our club opened in May 2012, TITLE Boxing Club Plano has been giving members of all kinds a chance to build their strength. Our trainers and leadership team are dedicated to creating a supportive environment where you can challenge yourself while feeling like part of the TITLE family. When you come to TITLE Boxing Club Plano, you can push aside all other worries and focus on yourself – your only opponent is the heavy bag. Everyone else is here to cheer you on.
We specialize in group fitness classes (boxing, kickboxing, and MMA) and pride ourselves on providing top-notch personal training services. Are you wanting to take your fitness to the next level? Our decorated trainers provide one-on-one and group training sessions for anyone looking to up their game. "Success is found outside your comfort zone," Head Trainer Chris Duran claims, and he's right. That's why we've designed each class to push you to a level you've never gone to before. Our group fitness classes begin with the warmups – a HIIT workout that combines trainer-led boxing with cardio drills and stretches. This gets your heart pumping and your mind ready for the next phase of your boxing for fitness class – the rounds. During the rounds, your trainer will lead you through a series of jab, hook, and cross combinations where you'll lay it all on the heavy bag for three minutes; then, you'll rest for a minute before jumping into the next round. Once you've finished the rounds, our trainers will lead you through an ab workout where you'll use weighted medicine balls to define your core.
A Boxing Gym For Everyone
We often get asked, "Do I need prior boxing experience?", or "Am I too old?". Absolutely not. Most of our first time guests have never put on a pair of boxing gloves. Our staff is careful to work with our guests and new members to learn the basic boxing and kickboxing techniques. Instructors help each individual tailor their workout to meet their current physical condition, their goals, and their special needs. Seniors of all ages have found our workouts to improve motor skills and strength. These are just a few examples that distinguish TITLE Boxing Club Plano from gyms and other upscale clubs.
Are You Ready To Be Your Best Self?
Club owners Terry Rodgers and Bond Conway are passionate about helping individuals in Plano, TX achieve their goals, and they're always happy to meet new members of the TITLE family. Terry says, "We are honored to have people come spend the best hour of their day with us!" Are you ready to make TITLE Boxing Club Plano your fitness community? Sign up for one of our classes today, and get ready to build your strength!
Want to see what our members have to say about their experience at TITLE Boxing Club Plano? Check out our Google reviews!