Authentic Heavy Bag Workouts
Take it out
on the bag

Redmond, WA. 98052
7325 166th Ave. NE, Suite F255

Open Today:

8am - 1pm
Your First Class
Let's make it happen together at TITLE Boxing Club Redmond. We welcome boxers of all fitness levels and are in your corner to make your first class experience easy and fun.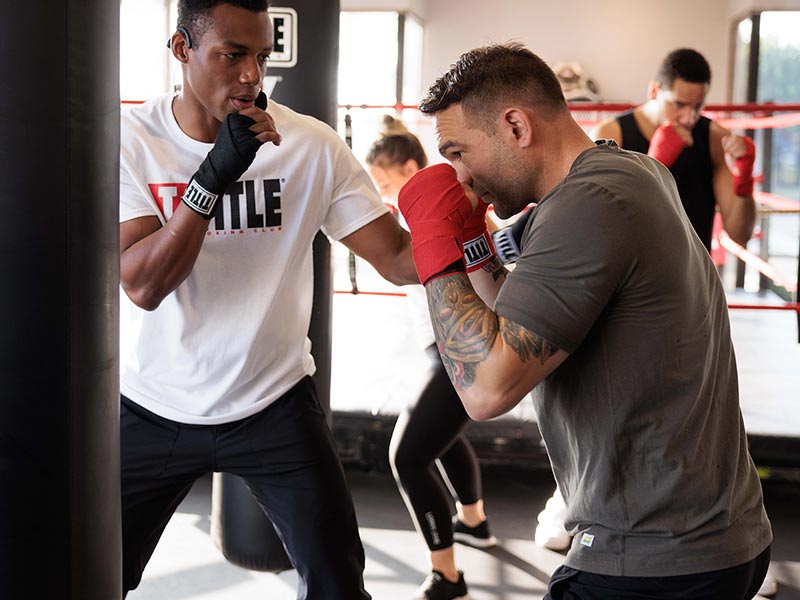 Our workouts are for all ages, all abilities and all fitness levels. Every participant in class is encouraged to go at their own pace. If you need to stop, catch your breath, stretch or get a drink of water, it's no big deal – everyone does it! Hop back in when you're ready and we'll be there right next to you cheering you on!
With all physical activity, there are risks. We encourage you to speak with a doctor before performing physical activity. As it pertains to our classes, we wrap your hands to prevent injury and show you the basic punches and exercises throughout class. If at any time you need assistance or more direction all you have to do is ask! The trainers interact with every person in class, not just stand up front like other gyms and studios, so it's easy to ask question as you go. We can offer modifications as well. To put your mind at ease: you will never get hit in one of our classes. We are a no-contact workout.
We have gloves that you can borrow for your trial class. We make sure they're cleaned and disinfected thoroughly after each class and replaced often. We recommend purchasing your own gloves after your first class. Best of all, TITLE Card members get a discount on gloves and wrap purchases.
We have gloves to borrow for your first time and you can purchase hand wraps here or bring your own. Hand wraps are required to use during class to protect your hands and wrists. We have water fountains in our clubs, and we encourage you to bring a water bottle and to drink plenty of water during and after class. The most important thing to bring with you is the attitude and belief that you can do anything you set your mind to.
We recommend wearing anything that makes you feel confident, especially workout apparel and shoes that you're comfortable sweating in. We have gloves to borrow for your first time and you can purchase hand wraps here or bring your own.
Of course! We know the best things in life are best shared—including being nervous to try something new! Convince your friend, colleague, partner or family member to sweat it out with you and you will have an accountability partner for life. When reserving your class simply tell us who you'd like to bring, and we'll make sure we reserve two bags.
When you arrive early before class, we use that time to get to know you and customize your experience. This is a great time to go over your goals and discuss any modifications you prefer due to an injury or based on your fitness level. If you're feeling nervous about your first class, let us know, and we can take class with you or find unique ways to make it more comfortable!
We ask that you show up at least 30 minutes before your first class. We will give you a quick tour, so you know where everything is, show you to your locker and help you pick out your bag and first-time loaner gloves. You'll select a pair of hand wraps (you can bring your own or purchase them here) and we'll walk you through the basics of class as we wrap your hands. We don't expect you to know how to wrap your hands for both comfort and safety, so we can help you on your first time or every time. Finally, before class starts, we'll set you up with our trainer to show you how to throw the four basic punches that will be used throughout class. Best of all, if you ever get lost just go back to the basic jab, cross combination and a trainer will come by to show you any other technique.
Staying true to how boxers train, our workout starts with a warm-up, then moves into boxing or kickboxing rounds, and finishes strong building your foundational strength in your core. Boxing is a full-body workout and you can expect it to incorporate your arms, back, chest, core, legs and glutes in the various movements and combinations.
Our classes are a total-body workout inspired by the sport of boxing. People of all ages, all abilities and all fitness levels are side by side in class with you—think young professionals, moms and dads, fitness first-timers, handicapped individuals, people trying to lose weight, gain muscle, get better and go at their own pace. Once the bell rings and class begins, all of your fears reside and the class experience truly becomes only about you and the heavy bag.
Member spotlight
When I first found Title Boxing Club in Redmond, it provided a high-energy workout that was aggressive and fun!  It was the kind of outlet that I needed, to break up my daily routine of working on a computer all day.  But now, I've made friends with other boxers and have…
Jacques I.
Recently started boxing because my husband started to do it for Parkinson's and it looked like fun. As someone who is older, it's nice to be active and do something that engages your brain and helps with coordination, strength, and flexibility. There's no pressure at Title Boxing Club Redmond, everyone…
Laura
I feel very lucky to have had a healthy pregnancy that allowed me to continue with my weekly boxing classes! Coach Liz made sure I was feeling comfortable but at the same time pushed me to give it my all, which is exactly what I needed. I can't wait to…
Emilia B.
Recent TITLE Boxing Club Redmond
Blogs

5 Fall Foods to Power Your Workouts
Incorporating seasonal fall foods into your diet can help enhance your boxing fitness workout by providing the necessary nutrients for energy, muscle recovery, and overall performance. Fall is known for its abundance of nutritious fruits and vegetables. Here are some fall foods in season that can benefit your boxing training at TITLE Boxing Club : […]
3 Reasons to Prioritize Weekend Workouts
For many of us, weekends often signify a break from the hustle and bustle of the workweek. While it's tempting to kick back and relax, incorporating a workout into your weekend routine can bring a range of physical and mental benefits. Here are three compelling reasons why you should consider breaking a sweat with TITLE […]
TITLE Boxing Club Redmond
Owner Bio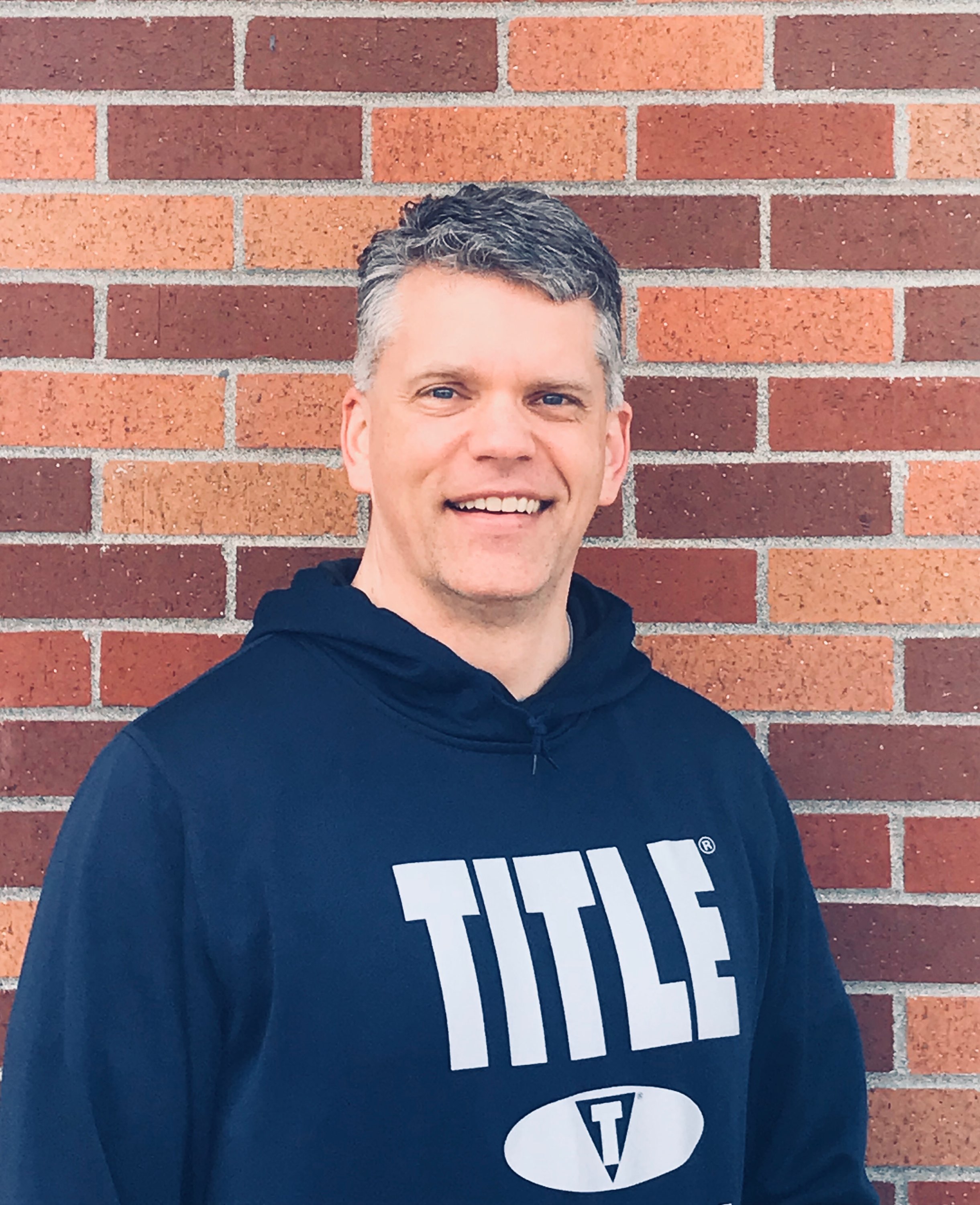 Bio – this is a husband, father, corporate finance professional, and volunteer with a penchant for running and cycling long distances (think marathons and 100 mile rides) who decides that it will be way more fun to help people reach fitness and career goals than it will be to perform one more financial statement variance report story.
My personal mantra – do stuff that surprises, in a good way, the people you love and care about, it brings people together, energizes and creates new perspectives.
My why – in addition to helping people reach their fitness goals, this is the first and only indoor workout that I truly enjoy. Not only does it engage my mind and body, it makes me better at the other fitness activities I participate in.
What gives me my fighting spirit – being a husband and father; is there a more awesome responsibility and rewarding experience than filling these roles?