State Line
8029 State Line Rd, Kansas City, Missouri 64114 816-997-9777 Open Today: 5:15am - 7:30pm Friday: 5:45am - 5:30pm Saturday: 7:30am - 11:15am Sunday: 7:45am - 10:15am Monday: 5:45am - 7:30pm Tuesday: 5:15am - 7:30pm Wednesday: 5:45am - 7:30pm
8029 State Line Rd, Kansas City, Missouri 64114 816-997-9777 Open Today: 5:15am - 7:30pm Friday: 5:45am - 5:30pm Saturday: 7:30am - 11:15am Sunday: 7:45am - 10:15am Monday: 5:45am - 7:30pm Tuesday: 5:15am - 7:30pm Wednesday: 5:45am - 7:30pm
Try a Class
New to boxing? Schedule your first workout at our State Line fitness studio and we'll show you the ropes.
Upcoming Classes
Thursday Sep 19
5:30 am
Boxing 45
Justine
Friday Sep 20
12:00 pm
Boxing 45
Justine
Saturday Sep 21
9:00 am
Kickboxing 60
Lisa
Sunday Sep 22
9:00 am
Kickboxing 60
Lexi
Tuesday Sep 24
5:30 am
Boxing 45
Justine
6:30 pm
Kickboxing 45
Jonna
Wednesday Sep 25
5:30 pm
Kickboxing 45
Lisa
Thursday Sep 26
5:30 am
Boxing 45
Justine
Friday Sep 27
12:00 pm
Boxing 45
Justine
Saturday Sep 28
9:00 am
Kickboxing 60
Lisa
Sunday Sep 29
9:00 am
Kickboxing 60
Lexi
Tuesday Oct 1
5:30 am
Boxing 45
Justine
6:30 pm
Kickboxing 45
Jonna
Meet Your Trainers
Success Story: Holli, "It's like therapy…"
Holli has been a member of TITLE Boxing Club State Line for a little over a year now. There aren't… Read More
Loyalty Beyond the Bag
With a Net Promoter Score of 87%, our members are happy to recommend us to others.

OP's TITLE Boxing Club Signs 'Milestone' Franchise Deal
Overland Park-based Title Boxing Club signed its largest franchise deal to date, which will bring 25 clubs to Mexico City.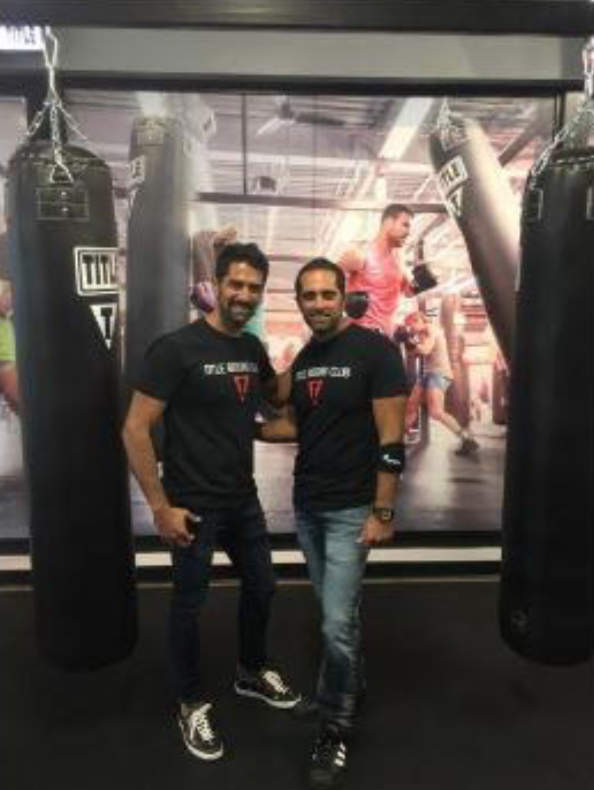 Mexico natives and brothers Jack and Alan Sandoval, who signed the record deal, already own locations in Miami and five clubs in Mexico City. They plan to open five more clubs in Mexico City this year and then five clubs each year until they reach 25 clubs.
"Ultimately, we want a Title Boxing Club close to everyone in Mexico," Jack Sandoval said in a release.
The brothers are tapping a hot market. Mexico's fitness and health industry creates more than $1.8 billion in annual revenue, according to the release.
Title Boxing Club, which started franchising in 2009, has grown to more than 190 clubs that offer fitness classes in boxing and kickboxing. It also has 150 clubs in development.
In the release, Title Boxing Club President Susan Boresow called the latest deal a "milestone agreement" and pointed out how Mexico has produced boxing legends such as Julio César Chávez and Canelo Alvarez. The boutique fitness studio hopes to produce a few champions of its own, she said.
Earlier this year, the boutique fitness studio introduced a new avenue to work out with the brand via a fitness app that gives subscribers access to full-body workouts and Title Boxing Club trainers. The app features 10- to 45-minute workout sessions for a variety of skill levels and gives users flexibility in tailoring the workouts. The Overland Park company also embarked on a national tour this year to ramp up brand awareness and target untapped customers.
Title Boxing Club ranks No. 95 on the Kansas City Business Journal's Top Private Companies List, with $71 million in 2018 revenue.
Club Reviews
July 31, 2019
Michaela Cantu
Kansas City, MO
The workouts are amazing!! I love that they have us warm up with cardio. Each trainer has a different style of teaching but they all stick to the technique they taught us from day one. So we learn to get better at our form but are also challenged to move quicker and hit harder. The trainers at State-line Title take interest in our individual progress. They encourage us to be better versions of ourselves every day.
July 27, 2019
Laura Sanchez
Kansas City, MO
The trainers continue to challenge you, mixing it up with workouts. I love that variety, and hope it doesn't change. It allows each trainer to infuse their own style and keeps things fresh. You get to learn each trainer's style so you can get familiar while still mixing it up. I can pick different trainers but the classes I like best are Maria's, Victor's and Lisa's. Nikki is great too, I just came make her classes due to my work schedule. I always feel welcome and never feel judged. The members at Title Boxing State Line are great too! The trainers at Title Boxing State Line do a fantastic job of creating a feeling of family. Having consistent staff is what keeps me an active member. They also help you in class if they aren't instructing and I really appreciate that. I've been a member for 8 months now, and have been taking PT sessions for that entire time too. I'm in for the long haul and hope trainers Maria, Victor, Lisa and Nikki are too! HUGE shout out to my personal trainer Maria Dix, she's helped me build confidence, strength, and lose a bunch of weight too! She has made a huge impact on the professional environment and positive welcoming energy at Title Boxing State Line. I've also taken Victor's, Lisa's and Nikki's boxing classes and they are GREAT! I always look forward to seeing them every week. The only thing I don't like are the new mats. Cheap and slippery, a real safety hazard. I've almost rolled my ankle twice on those. The style of the old ones is way better, I'd love to see new purchases of the old style come back. I've been avoiding some exercises on the new mats so I don't injure myself, which kinda sucks.
FAQs
I don't want to get hit; is this a contact workout?
No—not ever! Each person in class has their own heavy bag to workout on, plus their own space to move around the bag. Trust us, you won't even realize anyone else is in the class because you'll be so focused on the workout! And, rest easy, we never allow sparring or fighting at TITLE Boxing Club.
What makes TITLE different than other fitness studios?
Boxing is a great workout, perhaps one of the most challenging of all sports, and we want to bring you the intensity of the training, minus the impact. We'll teach you how to roll with the punches by pushing you further than you thought possible.
I'm new to boxing; will someone show me the basics?
You bet! All of our classes are taught by instructors who will show you the ropes from the beginning. We'll help you wrap your hands and walk you through the basic fundamentals. Everyone in class is at a different level, so take a deep breath and go at your own pace!
Can I bring my children with me?
We do not offer childcare services at TITLE Boxing Club. However, children over the age of eight are welcome to work out with you here and join as a member! Ask us about our Family Membership options.
What do I need to bring to class? How early do I need to arrive?
Hand wraps are essential for your protection and mandatory for class. You can bring your own or buy them here. We'll have gloves for you to borrow your first time, and you might want to bring a bottle of water and towel! Plan on arriving 20 minutes early so we can get you settled and wrap your hands.
I've never hit anything before. Will I hurt myself?
For a beginner, the most important thing is to learn the proper form. The good news is that we'll teach you! As you progress, you'll be able to throw several variations of punches from different positions and develop your own punching technique to fit your style. People are usually surprised at how much they love hitting the heavy bag!
I've heard the classes are intense; do I need to be in great shape to do the workouts?
It doesn't matter if you haven't worked out in a while or have never boxed before, you can finish the workout feeling great! You'll see that everyone goes at their own pace, but believe us that once you're here, you'll be inspired to give it your very best!
Can I try a class before joining?
Of course you can take classes before purchasing a membership. We have drop-in rates for single classes, three or six classes. These are great for people who travel often or want to try us out. You can choose our best value option and commit to a membership any time.