Authentic Heavy Bag Workouts
Take it out
on the bag

Westlake, OH. 44145
30691 Detroit Rd
440-786-6536

Open Today:

5:30am - 8:30pm
Your First Class
Let's make it happen together at TITLE Boxing Club Westlake. We welcome boxers of all fitness levels and are in your corner to make your first-class experience easy and fun.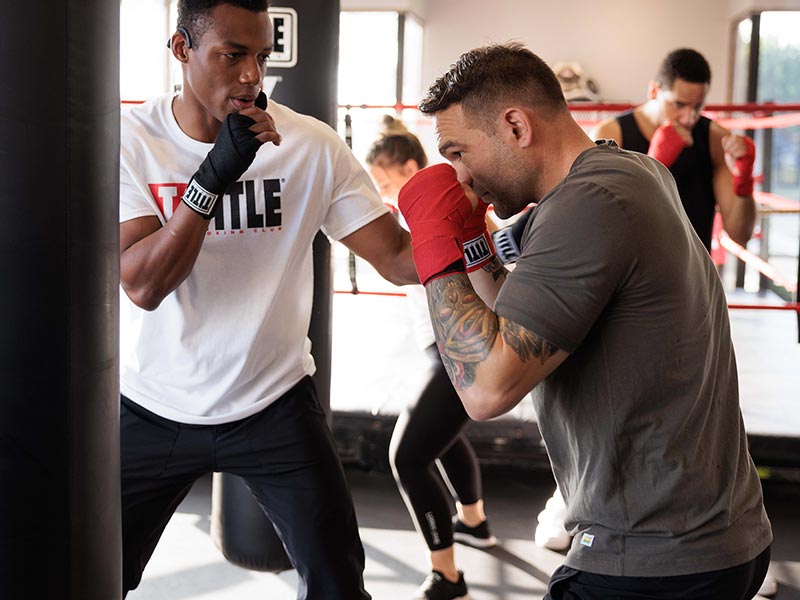 TITLE Boxing Club Westlake
Owner Bio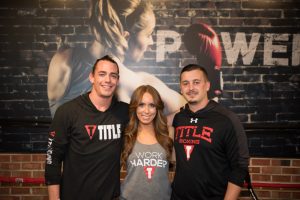 DANE is an Owner and Puzzle-Master of the operation. He is a graduate in Business Management and collegiate athlete in football at Capital University. Dane started training at the age of 12 to be a well rounded athlete. He was first introduced to Boxing in college by his roommate and Professional Boxer Mándo Ancona. When Dane found the best workout of his life at TITLE Boxing Club, the rest is history. His mantra: "When You Want To Succeed As Bad As You Want To Breathe Then You'll Be Successful" -Eric Thomas
RJ is an Owner & General Manager. He grew up wrestling and playing football in high school. He continued wrestling as a collegiate athlete for Ohio University and Cleveland State University. His love for the sport grew into an interest in Mixed Martial Arts. Wrestling & MMA taught RJ a lot about discipline. RJ feels discipline comes in two forms: One that is created by work, school, and his parents. The other is Self-Discipline which comes from within and propels you through life. RJ believes in Bushido – which means 'The way of the warrior' and is the term for the Samurai way of life. "Live life with every breath"
AINSLEY is the Assistant General Manager and wheels of the operation. She graduated from Bowling Green State University with a Bachelor's Degree in Communications and Marketing. Ainsley grew her love for fitness starting with sports and continued to educate/train herself for overall health. She found TITLE Boxing Club in 2012, fell in love and never turned back. Ainsley loves tacos and squats. She is known around here as the Queen of Squats!
Member spotlight
Great service from Curtis. He helped me set up my membership with no issues and the classes are incredible. I was humbled very quickly. (Jan 2023 – 5/5 stars)
Dan C
Going on 2 years at title! I absolutely love it here. Such a good environment with great people. The best workout! Will leave you feeling better than when you walked in! Love this place!! (Jan 2023 – 5/5 stars)
Taylor M
I have been a member of Title Boxing Club for roughly a year & a half and I can not say enough great things about the workout, the environment and all the great trainers there!! Title Boxing has not only been great for my physical health, but also for my…
Brian S
Definitely recommend Title Boxing Club Westlake Crocker Park to anyone looking for an amazing workout with fantastic trainers! The trainers are all very motivating and encourage you to push yourself to reach your goals! It's a great workout and challenging but the trainers are extremely helpful in teaching and making…
Melissa P
Amazing energy, great workout, and meeting great members! Take a chance at one of the best workouts you will ever have!
Robyn M
Recent TITLE Boxing Westlake Club
Blogs

5 Ideas for An Active Rest Day
If you're a regular at TITLE Boxing Club or someone who loves intense workouts, you probably know the importance of taking rest days. However, taking a rest day doesn't mean you have to be sedentary or inactive. Instead, an active rest day can help you recover faster and prepare you for the next workout. Here […]
Mastering the Jab: How to Fix Common Mistakes
Boxing classes, like the ones we offer at TITLE Boxing Club , are a great way to improve your overall fitness and coordination. The jab is one of the most important and basic punches in boxing, and it's essential to master the proper technique to get the most out of your TITLE Boxing Club experience. […]