Prep For Your First Punch
At TITLE Boxing Club Chicago South Loop, we welcome boxers of all fitness levels and are in your corner to make your first boxing class an easy and fun experience. Our Chicago boxing gym has excellent coaches to help you through your first encounter with our strength training, boxing combos, and heavy bag workouts. From the upper body workout to the interval training, TITLE Boxing Club Chicago South Loop is ready to help you on your journey to hitting that first punching bag.
Here's Everything You Need to Know to Get Ready for Your First TITLE Workout!
We strongly recommend you arrive early! All first-time guest experiences begin 25-30 mins prior to the scheduled class start time so we can show you the ropes
If you don't own a pair of hand wraps or boxing gloves, that's okay, we have them at TITLE Boxing Club Chicago South Loop for purchase
Our Chicago TITLE Boxing Club Coaches will wrap your hands and show you how to throw the six basic punches
While the Coach sets the tempo for the boxing fitness class, you absolutely are encouraged to go at your own pace
Bringing a friend for the first time is highly encouraged and makes the boxing workouts so much more fun
Let's Get Better, TOGETHER
We welcome boxers of all fitness levels and are in your corner to make your first group fitness experience easy and fun. You can also explore our private one-to-one classes to accelerate your personal training and get you up to speed. Our Chicago coaches are ready and available to help you reach your fitness goals.
Every TITLE workout has one core goal: to make sure you leave empowered and equipped with a new, better, and more powerful skillset.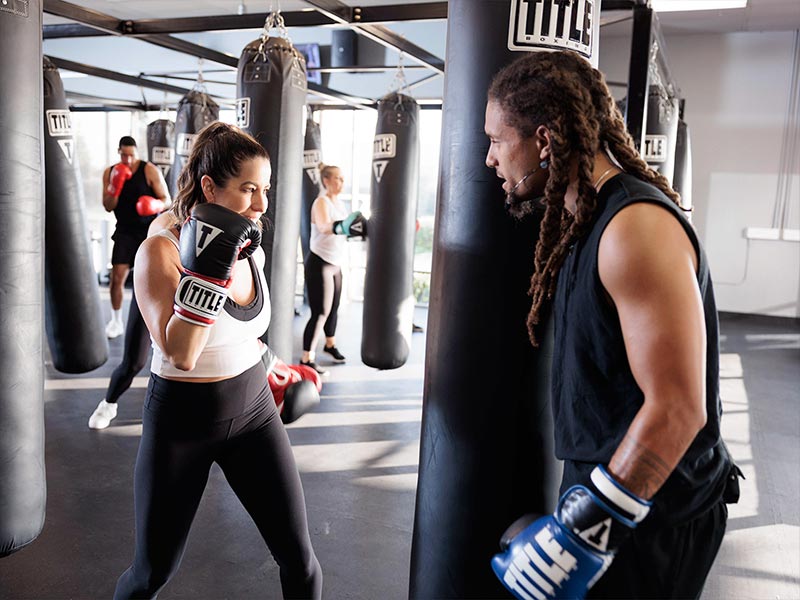 Yes! At TITLE Boxing Club Chicago South Loop, our classes are beginner friendly and designed for all fitness levels. Our coaches will guide you throughout the entire full body workout.
We ask that you arrive at least 25-30 minutes before your first class so we can show you the ropes. We will give you a quick tour, help you wrap your hands, and teach you the six basic punches.
Gloves and hand wraps are required for all classes. If you have your own, bring 'em. If you don't, we sell all the equipment you need at our Chicago clubs.
We recommend wearing anything that makes you feel confident, especially workout apparel and athletic shoes that you're comfortable sweating in.
We believe everything is BETTER TOGETHER! Please contact your IL club, prior to your class, if you have a friend that you would like to join you.
Member spotlight
I cannot recommend TITLE enough! The classes are fast, and fun and they play great music. Stop by to try a class and you'll see why so many people love TITLE Boxing Club!
Tara F.
I joined TITLE Boxing Club because I wanted to gain confidence. Now, I feel powerful and it's a blast learning to throw a punch. This has been so much more than just a boxing class.
Kathleen I.
Great workout head to toe – cardio, muscle building, losing weight…it's all right here. And the camaraderie you build with other members is second to none.
Daniel L.
Workouts are fun and taking your stress out by hitting a heavy bag is awesome.
Julie M.
I love this place! I had wanted to try boxing workouts for a while, but I was intimidated. I finally checked it out and I've been going ever since! Super fun and engaging workouts.
Cory A.