Authentic Heavy Bag Workouts
Take it out
on the bag

Forest Hills, NY. 11375
6930 Austin street
347-960-9595
foresthills@titleboxingclub.com

Open Today:

5:45am - 8:45pm
Your First Class
Let's make it happen together at TITLE Boxing Club Forest Hills. We welcome boxers of all fitness levels and are in your corner to make your first class experience easy and fun.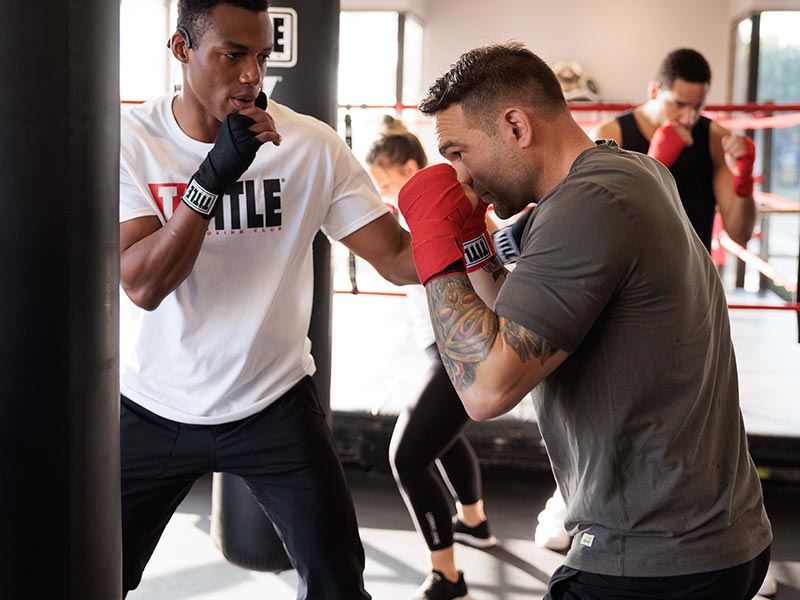 Our workouts are for all ages, all abilities and all fitness levels. Every participant in class is encouraged to go at their own pace. If you need to stop, catch your breath, stretch or get a drink of water, it's no big deal – everyone does it! Hop back in when you're ready and we'll be there right next to you cheering you on!
With all physical activity, there are risks. We encourage you to speak with a doctor before performing physical activity. As it pertains to our classes, we wrap your hands to prevent injury and show you the basic punches and exercises throughout class. If at any time you need assistance or more direction all you have to do is ask! The trainers interact with every person in class, not just stand up front like other gyms and studios, so it's easy to ask question as you go. We can offer modifications as well. To put your mind at ease: you will never get hit in one of our classes. We are a no-contact workout.
We have gloves to borrow for your first time and you can purchase hand wraps here or bring your own. Hand wraps are required to use during class to protect your hands and wrists. We have water fountains in our clubs, and we encourage you to bring a water bottle and to drink plenty of water during and after class. The most important thing to bring with you is the attitude and belief that you can do anything you set your mind to.
We recommend wearing anything that makes you feel confident, especially workout apparel and shoes that you're comfortable sweating in. We have gloves to borrow for your first time and you can purchase hand wraps here or bring your own.
Member spotlight
I cannot recommend TITLE enough! The classes are fast, and fun and they play great music. Stop by to try a class and you'll see why so many people love TITLE Boxing Club!
Tara F.
I joined TITLE Boxing Club because I wanted to gain confidence. Now, I feel powerful and it's a blast learning to throw a punch. This has been so much more than just a boxing class.
Kathleen I.
Great workout head to toe – cardio, muscle building, losing weight…it's all right here. And the camaraderie you build with other members is second to none.
Daniel L.
Workouts are fun and taking your stress out by hitting a heavy bag is awesome.
Julie M.
I love this place! I had wanted to try boxing workouts for a while, but I was intimidated. I finally checked it out and I've been going ever since! Super fun and engaging workouts.
Cory A.
Recent TITLE Boxing Club Forest Hills
Blogs

Are Rest Days Important?
A rest day is simply taking a day off from your normal workout routine. Taking rest days does not mean you'll lose progress or have slower progress in your boxing and kickboxing skills. Rest days actually do the opposite and enhance your progress and performance in your TITLE Boxing Club boxing and kickboxing classes! During […]
How to Clean Your Boxing Gloves and Hand Wraps
A large factor in how long your boxing gear lasts is determined by how well you care for it. Here are step-by-step instructions on how to best clean your boxing gloves and your hand wraps, not only to have them smell the best but to get as much life out of them as possible. Boxing […]
TITLE Boxing Club Forest Hills
Owner Bio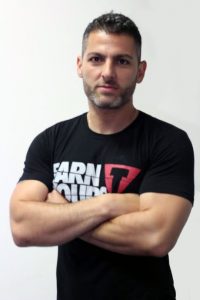 Danny Azzo graduated from Richmond Upon Thames college in London, UK with a bachelors degree in business. After immigrating over to New York in 2008, Danny is now married to his beautiful wife, Sandra Azzo, sharing two amazing boys, Lucas and Oliver.
In 2012, Danny entered the franchising world of business with TITLE Boxing Club. A year later TITLE Boxing Club in Forest Hills opened it's doors for the very first time in the state of New York. Today, and after a few years, Danny's club has gained momentum, and built it's reputation as a very well run facility, offering explosive Boxing and Kickboxing classes for all.
Danny's passion for sports doesn't stop at Boxing or even Kickboxing. Danny is an avid lover of football (soccer). At his very ripe age, he is still playing soccer for a local team in NYC. Danny also posses a professional UEFA "B" license in coaching demonstrating a keen eye to help others achieve their goals and learn how to become stronger while pushing for more.
Want to see what our members have to say about their experience at TITLE Boxing Club Forest Hills? Check out our Google reviews!