Choosing a gym in North Station to join can be extremely difficult, but here at TITLE Boxing Club North Station, we try to make it easier. We have an extremely supportive staff that will help you reach your boxing for fitness goals and will help push your body to its limits. We are able to do this by incorporating different workout techniques into one boxing workout. By utilizing a boxer's workout, you have the ability to burn up to 1000 calories per workout, along with building muscle and sculpting the way you look and feel. We incorporate cardio, boxing, kickboxing, core and strength training all in one workout so that your body experiences an entire body workout. Lifting weights is great, but we want you to also lift yourself to be better each day.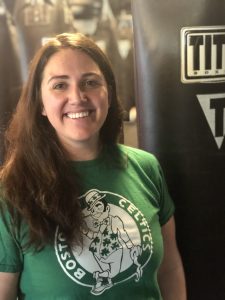 Meet Alexandra B., our TITLE Boxing Club North Station member of the month. Alexandra didn't just join our club because we were a boxing gym near her, but she wanted a change from her previous fitness routine. By joining TITLE Boxing Club she has been able to experience a full-body boxing workout that incorporates cardio, strength, and core training. Her dedication to our kickboxing, boxing, and HIIT classes have allowed her to hit her boxing for fitness goals each month. Burning 1000 calories per workout has changed both her mind and body and has given her motivation. Here is what Alexandra has to say about her time at TITLE Boxing Club North Station:
I tagged along to my first TITLE Boxing class with a co-worker as a way to fit in some exercise during my lunch breaks. What started as a convenient mid-day workout has turned into a near obsession – my day doesn't feel complete without at least one visit to TITLE. The club's comprehensive and varied schedule makes it easy to fit a class (or two!) into my daily routine.

I leave every class feeling strong, empowered, sweaty, and even relaxed. With each class I take, I can feel myself improving and getting closer to my goals.  I love boxing because of the physical and mental workout it gives me every single time, but I would never be where I am today without the support and encouragement of all the TITLE trainers and staff members. Everyone is there to challenge you and push you to your limit, all while having fun!
Thank you, Amanda, for continuing to let TITLE Boxing Club North Station bring you encouragement! Our fitness trainers are always here for you, and we'll continue to encourage you in your fitness journey. We look forward to seeing you at your next boxing class!