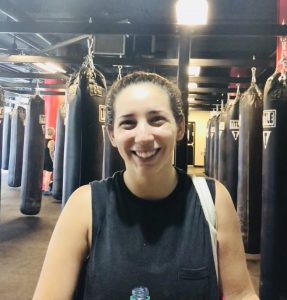 At TITLE Boxing Club North Station, MA we are excited about helping our members accomplish their goals in a supportive environment. Our August member of the month, Maria Palacios, has proved her strength by overcoming obstacles and pushing herself to the next level. Because of our boxing, kickboxing, HIIT classes, and cardio workouts, she has renewed motivation and endurance, and continues to better her health every day. The trainers at TITLE Boxing Club North Station, MA have had Maria's back since the day she stepped in the club, and they are incredibly proud of her hard work and achievements at TITLE.
TITLE Boxing Club's authentic, full-body boxing workout is designed to change your body, clear your mind, and engage your spirit. Each class includes a warm up, rounds, active rest, core & cool down to help you achieve your fitness goals. During our classes, TITLE trainers will lead you in an empowering, exhilarating workout that helps you boost your stamina and confidence. Here's what Marie has to say about her experience at TITLE Boxing Club North Station, MA:
Last year, when I arrived in Boston, I was extremely motivated about living in the city with the incredible landscape and "running" tracks everywhere. The thing is, I didn't know all the endurance needed for running and also, that when winter comes…. well it's hard to go to the streets and run. By November, 3 months of living in the city, my motivation started to vanish and from running 5 days a week, it started to decrease to 3, 2, until I realized I wasn't even running anymore. Due to my lack of motivation and the weather, I just couldn't. One day a friend from school told me she was going to boxing classes and I felt intrigued, I've never boxed before so I decided to give it a chance. After the first class and feeling like I was "dying", I just couldn't stop going! And now 7 months after, my motivation came back, my endurance came back and I'm even running again! I can say that TITLE and their instructors encouraged me to keep going to class every day and just getting it done.
Thank you for your dedication to TITLE Boxing Club North Station, MA, Maria, and for letting our trainers help your reach your goals!