Aug 16, 2018
Heidi and John's Success Story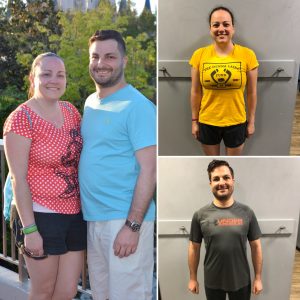 Shout out to TITLE Boxing Club North Andover, MA  members Heidi and John! This month we're celebrating them for being awesome and dedicated members of our TITLE family. Heidi and John have shown tremendous endurance and dedication during their time at TITLE Boxing Club North Andover, MA, and they continue to push themselves to reach their goals. Through TITLE's boxing classes, Heidi and John learned that dieting isn't the only answer for weight loss as boxing fitness classes provide the all-around training needed to help you lose weight. We are able to do this by providing our members with a workout that challenges all parts of the body. Beginning with the warm up, trainers at TITLE Boxing Club North Andover, MA lead you in shadow boxing, cardio drills, and stretches that get your heart pumping. After the warm ups, you're lead in the rounds, active rest, and core & cool down where jab, cross, hook, and uppercut combinations help you burn calories while sculpting your body. Heidi and John have used these workouts to transform their bodies, and we are extremely proud of the progress that they made. Here is what Heidi and John have to say about their story:
 The before was April 2016. I didn't think of myself as an overweight person. I got around felt ok and was "active". Then my sister got engaged and she had all fit friends and I vowed I didn't want to be the "overweight one"! So I dieted and treadmilled and shed 10 pounds. It was tough to stick to it and I put it all back on. Shortly after – I got engaged. I wanted to keep it off this time. Around that same time my now fiancé showed me a TITLE before/after story. It showed me that dieting wasn't the only answer – you needed all-around training. So December of 2017 I signed up and was going fairly consistently, but it was the spring weight loss challenge that really did it for me. Coach Jay got my mind thinking wholesome-balance eating – not the dieting plan of counting points and relying on "fat free" eating. I am wearing sizes I haven't worn since college and hiking mountains in under book time. I owe it all to TILTLE boxing.
Thank you, Heidi and John, for being part of our TITLE Boxing Club North Andover, MA family!