Having a personal trainer can make all the difference in reaching your goals faster and more efficiently. Whether you want to lose weight, build muscle, or improve your overall health and wellness, a personal trainer can provide the guidance, accountability, and expertise you need to achieve your goals. Here are some of the key benefits of having a personal trainer to help you reach your fitness goals, specifically at TITLE Boxing Club.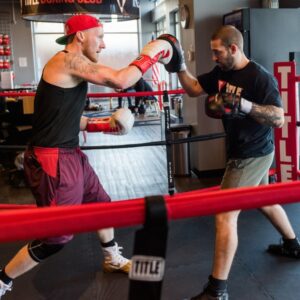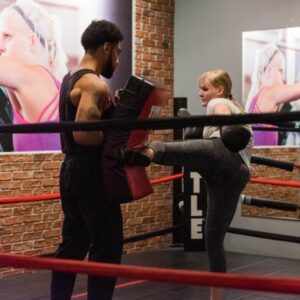 1. Customized Workout Programs
TITLE Boxing Club coaches will create a workout plan specifically designed for you and your fitness goals, considering your fitness level, strengths, weaknesses, and physical limitations. Say your goal is to perfect your boxing technique because proper boxing technique is critical for progressing and getting the most out of your TITLE Boxing Club classes. Your coach will refine your footwork, your punches, and your defensive maneuvers through mitt work, heavy bag work, and other specific boxing drills. After sessions with your coach, you'll notice you punch with more speed, power, and confidence in class.
2. Motivation and Accountability
Another great benefit of having a personal trainer is that they can help you stay motivated and accountable. When you rely on your motivation, it can be easy to skip a TITLE Boxing Club class or slack off and not push yourself as hard as you should during class. But when you have a personal trainer, you will have someone to hold you accountable and make sure that you are doing what you need to do to reach your goals. They will also provide constructive feedback and encouragement to help you keep pushing forward and stay focused on your goals.
3. Expert Advise and Support
TITLE Boxing Club coaches are experts in boxing fitness, and they can offer you valuable advice and support you can't find anywhere else. They can answer any questions you may have about your boxing workout routine, or about the exercises, you are doing in classes, and they can help you make any necessary adjustments to help you reach your goals. This is especially important if you are new to boxing fitness, or if you are looking to take your fitness to the next level.
In conclusion, having a personal trainer is an excellent way to reach your fitness goals. They can help you tailor your fitness program, motivate you to push yourself, and provide you with expert guidance. When you train with a TITLE Boxing Club coach, you can be sure that you are on the right track to achieving your desired results. So, if you are ready to take your fitness journey to the next level, ask your local TITLE Boxing Club about private training options with a personal trainer.