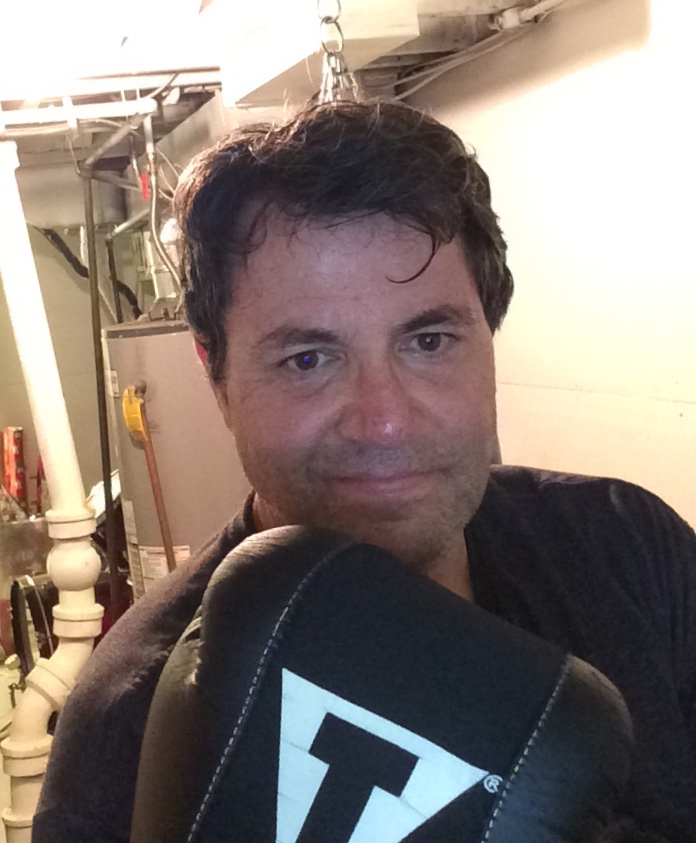 Forgive yourself, it's okay if you overdue a meal or make a mistake, just do the best you can.
Rockville, Maryland native, father, and husband, Dana Tofig, has been hooked on hitting the bag at TITLE Boxing Club Rockville and TITLE Boxing Club North Bethesda for a little over a year. He came across the clubs in the midst of a journey to weight loss and better health. After concluding that a traditional gym wasn't a good fit for his goals, he mustered up the courage to step out of his comfort zone and walk into TITLE. "I've always been a big boxing fan, I grew up in the time of Ali, Spinks and Sugar Ray Leonard…and I'm a huge fan of the Rocky movies so I've always wanted to try it," Dana explained his longtime fascination with the sport before proclaiming, "I just got the guts up and walked in."
Dana took his first class on Memorial Day of 2019, which happened to be a 90-minute class. Though the hour and a half of boxing was grueling, considering he has never done a workout quite like it before, he caught his breath and dragged himself to the front desk, with a smile on his face, and signed up for a membership. "Despite being incredibly sore for the next few days, I loved it…and since then I've gone three times a week for a year," he proudly admitted to us. It wasn't just the intense workouts bringing Dana back to the club but the community of everyday fighters he began to connect with as well, "They do a lot at TITLE Rockville to really engage the community, they have celebrations and they had a Halloween party where everyone dresses as Marvel characters, it's fun and makes it a place you want to be."
52-year-old Dana came across TITLE at a time where he needed a change if he was going to lose the weight he'd always envisioned himself losing, and keep it off. "I've struggled with my weight my entire adult life, I would lose some then gain some, then repeat," Dana told us. In March of 2019, he was the heaviest he had ever been, a discovery that lit a fire within him and got him on track to lose a whopping 70 pounds by December of 2019. He started with changing up his diet and going on long walks, then eventually found himself whaling on the heavy bag at TITLE and seeing major results. "Every class I took indicated to me where I was physically, I was getting stronger so the classes were getting a little bit easier and now I can pretty much do all the core exercises, I used to hardly be able to do any core," Dana relished in his victory. Today, Dana is healthier, happier, and weighs the least amount he's weighed since college.
TITLE Fam, you're not alone. Hush any discouraging thoughts in your mind and punch them! There is a voice much louder inside of you saying, "YES, YOU CAN." Remember, everyone is on their own timeline, don't ever compare your journey to someone else's. Recognize that you are capable of anything you put your mind to and do it. Dana did. Be like Dana. When asked what piece of advice he would give someone enduring similar struggles he replied with, "forgive yourself, it's okay if you overdue a meal or make a mistake, just do the best you can." You got this TITLE Fam, get back up and keep going.