Dec 6, 2018
Monthly Spotlight: Gogolewski Family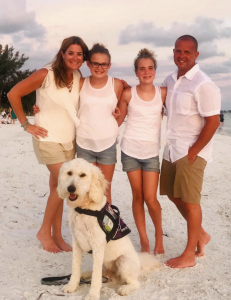 We are excited to announce that, for December's member of the month, TITLE Boxing Club Liberty Township, OH will be celebrating the Gogolewski family: Mike, Beth, Carly, Corrine, and their newest family member, Rory. They have been part of our TITLE fam for three years. Mike & Beth are two of the nicest, most hard working people you'll ever meet. Mike knocks down a bag every time he takes a boxing class and Beth does not stop during her boxing fitness classes. She even stays after to get extra work in! Carly & Corrine are twins and such sweet young ladies. Rory is the friendliest dog you'll ever meet, and you'll fall in love as soon as you pet him. You never know what battles families have to face and the Gogolewski's are no exception; they are truly inspiring on many levels. TITLE Boxing Club Liberty Township, OH is so happy they we can honor them. Their daughter Corrine has a rare form of epilepsy, and their family story is remarkable. We will be collecting donations all month for the Epilepsy Foundation of Greater Cincinnati. Please consider donating to this foundation; epilepsy is devastating and this foundation helps raise awareness and improve the quality of life of people living with the condition. The foundation has worked hand in hand, supporting Corrine and her family through the years.

Let's get to know the Gogolewski's a little better. Here's what Beth has to say about her family's story:

Mike is in medical sales and works for Cantel Medical. He travels weekly all over the state of Ohio and parts of West Virginia and Northern Kentucky to cover his territory. Despite his travel, he is a big family guy and always makes it home to eat dinner with us and help get Corrine to soccer practices and Carly to her volleyball practices. I was formally a 6th Grade teacher for 8 years before we had the twins but then chose to be a stay at home Mom when we realized not one, but two were on the way! I feel very grateful that Mike works as hard as he does to allow me the opportunity to be at home with our girls. Our daughter, Corrine, has a rare case of Epilepsy and being home has allowed me the time I have needed to take care of the daily medical and school needs for her that can be very time consuming. The boxing community at TITLE Boxing Club has been like a family to us and such a wonderful support system the past three years, and we greatly appreciate it! Some of you already know our family's story but for those of you that don't, our daughter, Corrine, received a Seizure alert service dog named Rory last October that goes to 7th grade at Plains Jr. School with her daily. Netflix approached us last year and spent last year filming our family's journey while we were at 4 Paws for Ability training to receive Rory and just what daily life is like for Corrine living with Epilepsy and how brave her twin, Carly, is. We would love to share our family's story with all of you! If you are interested, you can watch Corrine and Rory's documentary filmed right here in West Chester, Ohio on Netflix. The 6 part original series on Netflix is called "Dogs" and Corrine's episode is the first episode in the series called, "A Kid with a Dog."
Thank you, Gogolewski family, for continuing to let TITLE Boxing Club Liberty Township, OH bring you encouragement! Our fitness trainers are always here for you, and we'll continue to encourage you in your journey. We look forward to seeing you at your next boxing for fitness class!
Interested in supporting families like the Gogolewski family? Call 513-844-8900 to learn more about how you can donate to the Epilepsy Foundation of Greater Cincinnati!